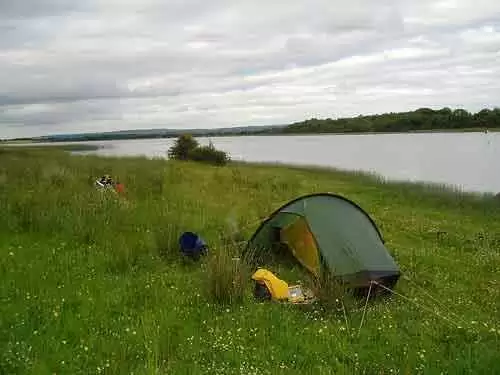 Caption: gluten-free camping (photo courtesy of stevecadman)
Celiac.com 05/20/2010 - The weather is getting warm and it's almost that time again-time to go camping! Camping is supposed to be relaxing and fun. Most people camp to escape the monotony of the daily rut, and to get back to the basics. Eating gluten-free while camping is really easy, once you know what to bring and what to avoid.
Camping trips usually consist of the same easy to prepare foods. Chili, pasta, canned soups, hot chocolate, sandwiches, hot cereal, trail mix and  s'mores are the high-lights of most camping meals. All of those things can easily be prepared gluten-free. In fact, many gluten-free already prepared foods can be used for camping trips. Anything canned or boxed that you normally enjoy at home, can typically be converted to camping food.
Two Day Sample Meal Plan (everything should be gluten-free):
Day 1-
Breakfast- Pancakes with fresh berries and real maple syrup
Snack- Energy Bars
Lunch- Sandwiches with gluten-free bread
Snack- Carrots & celery sticks
Dinner- Instant mashed potatoes, instant gravy, grilled meat and/or veggies. 
Dessert- S'mores (see recipe below)

Day 2-


Make sure to buy all gluten-free products. Don't forget the gluten-free sunscreen and the gluten-free insect repellent.
Gluten-Free S'mores Recipe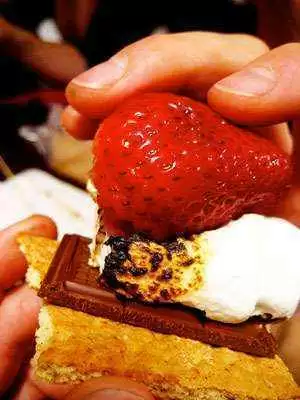 Ingredients


To Make


1. Put your marshmallow on a fire safe skewer. Heat the marshmallow over an open flame until it begins to brown and melt.
2. Break the graham cracker in half. Sandwich the chocolate between the cracker and the hot marshmallow. Allow the chocolate to melt and the marshmallow to cool a moment before eating.
3. Add strawberries or other gluten-free favorites.

Happy Trails!