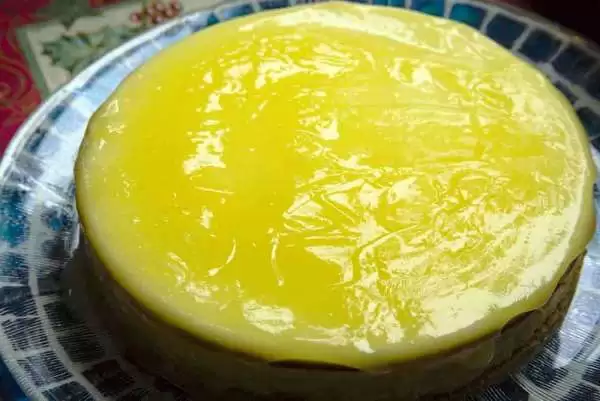 Caption: Image: CC BY-SA 2.0--Charles Haynes
Celiac.com 12/14/2019 - Gluten-free cheesecake recipes are among our most popular. Like many of our favorite cheesecakes, this one is made with a delicious almond meal crust, and includes zesty lemon bar filling and delicious cheesecake topping that are certain to make this dessert a gluten-free favorite.
Cheesecake Ingredients:
1 pound cream cheese, 2 (8-ounce) blocks, softened
3 whole eggs
1 cup sugar
½ teaspoon vanilla extract
2 teaspoons grated lemon peel + more for garnish
---
Celiac.com Sponsor (A12):


---
---
Celiac.com Sponsor (A12-m):


---
Lemon filling ingredients:
4 eggs
1½ cups white sugar
1 tablespoon potato starch or gluten-free flour
1 tablespoon lemon zest
½ cup lemon juice
 
Almond Crust:
¾ cup finely ground almonds
¾ cup almond meal
1 tablespoon confectioner's sugar
2-3 tablespoons butter, room temperature
Directions:
Heat oven to 350 degrees Fahrenheit.
Place all nut crust ingredients in a mixing bowl and mix well.
Lightly coat the bottom and sides of an 8-inch springform pan with oil. Pour the nut crust mixture into the pan.
Use the bottom of a measuring cup or glass to press the crumbs down into the bottom and 1-inch up the sides of the pan.
Place crust in oven and bake about 3-5 minutes, or until the crust is slightly browned. Remove and cool.
Whisk together 4 eggs, 1½ cups sugar, 1 tablespoon potato starch or gluten-free flour, lemon zest, and lemon juice in a bowl. 
Pour lemon mixture into the prepared crust. 
Skim off any bubbles from the surface of the filling. 
Mix the cream cheese and 1 cup sugar in a bowl until well blended. 
Whisk in 2 eggs, then spread over the lemon mixture. 
The mixtures will separate during baking.
Bake at 350 Fahrenheit until the filling is set, about 30 minutes.
Remove and set aside to cool. 
Garnish with finely ground lemon peel. Serve at room temperature. 
To slice the cheesecake, dip a thin, non-serrated knife in hot water, make a cut, then wipe blade dry after each cut.