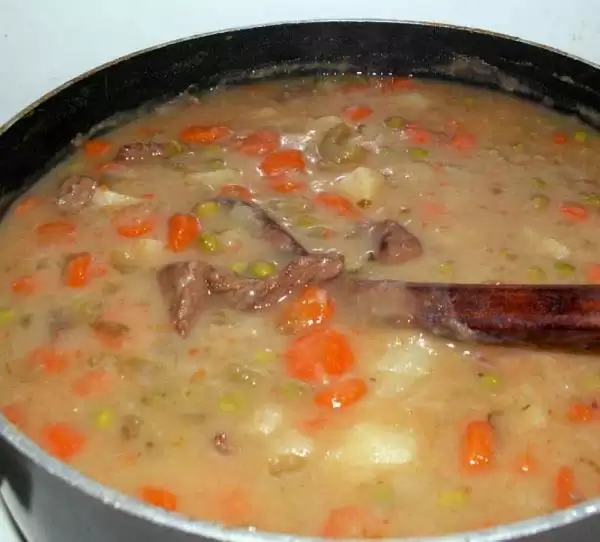 Caption: Image: CC--Cindy Funk
Celiac.com 12/27/2018 - Winter is stew season, and this delicious stew of chicken and gluten-free Polska kielbasa sausage (Polish sausage) is just the dish to fill your stomach and warm your soul. It's easy to throw together, and highly versatile. Substitute vegetables as you like. The result is sure to please.
Ingredients:
8 ounces cooked gluten-free Polska kielbasa (Polish sausage), cut into ½-inch slices
1½ cup chicken, cooked and chopped
1 large onion, chopped
1 large carrot, sliced 
1 stalk celery, sliced celery
3 cloves garlic, minced
1 tablespoon olive oil
1 quart or liter of chicken broth
2 cups cubed potatoes, parsnips, butternut squash and/or sweet potatoes 
1 14½-ounce can diced tomatoes
1 8-ounce can tomato sauce
1 tablespoon dried Italian seasoning
½ teaspoon onion powder
½ teaspoon ground black pepper
¼ cup fresh Italian parsley, chopped 
---
Celiac.com Sponsor (A12):


---
---
Celiac.com Sponsor (A12-m):


---
Directions:
In a large stock pot, sauté onion, carrot, celery and garlic in oil over medium heat until onion is tender. 

Add chicken broth, potatoes, undrained tomatoes, tomato sauce, Italian seasoning, onion powder, and pepper. Bring to boil, then lower the heat. 

Cover and simmer for about 30 minutes or until vegetables are tender, stirring occasionally. 

Stir in chicken, Polska kielbasa, and parsley; simmer, covered, about 5 minutes or until hot.

Serve in bowls with your favorite gluten-free bread, or over rice for an extra-hearty meal.