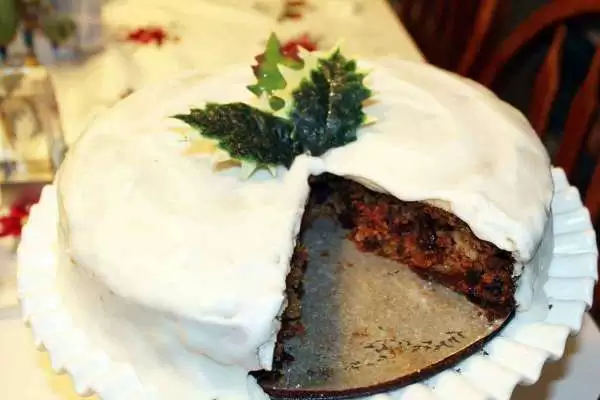 Caption: The finished Gluten-Free Christmas Cake. Image: Vonnie Mostat
Celiac.com 12/28/2020 - This cake started with a boxed gluten-free carrot cake, no dairy and non-GMO.  There are several gluten-free carrot cake mixes on the market, and this was made using a 20 oz. box of XO Baking Co. Gluten Free Carrot Gourmet Cake Mix (the entire box in other words).
The larger of the two cakes is almost too much for the two of us and our adult children (our grand-children hate Christmas Cake). Being from a British background I was raised on Christmas cake! In fact my brother-in-law used to fry it up for breakfast which was a bit "over the top". The gluten-free box of gourmet carrot cake mix says, "Made with REAL carrots!" but what other carrots are there?
---
Celiac.com Sponsor (A12):


---
---
Celiac.com Sponsor (A12-m):


---
For the top of the cake I purchased Marzipan from a baking supply store and followed it up with Royal Icing which covered the top perfectly. To the carrot cake I added:-  ½ Cup of blonde raisins  (For my husband I should have used dark raisins because he loves dark Christmas cake) Ah WELL! I traced some parchment paper for the bottom of the spring-form pan, which is the type of pan that has a removable bottom.

Ingredients:
20 oz. box of XO Baking Co. Gluten Free Carrot Gourmet Cake mix
½ Cup of raisins
½ Cup of slivered almonds
½ Cup of red glazed cherries
½ Cup of chopped dates ( chopped finely)   If you too like dark Christmas cake then use dark raisins and put in more chopped dates
¾ Cups of candied peel
½ Cup of chopped dried apricots
Gluten-free rum flavoring
Use 3 Eggs beaten well instead of 2 called for in the carrot cake mix
1 tsp. mixed spice (makes it more like Christmas cake than carrot cake!)
Optional: 2 tbsp. of brandy
I Added gluten-free rum flavoring, which according to Ray's Mom was a travesty. She used to makes her Christmas cakes 3 - 4 weeks earlier, prior to Christmas, soaked them in rum and covered them well with cheesecloth and kept them in a cool, dry place. I did not have time to do that and we had already eaten so much Christmas Cake with the CLINICAL TRIALS (HA HA).
To ensure that I did not have the fruits drop to the bottom while baking I coated them  well with some dry carrot cake.
I pre-heated oven to 350F and baked it for an hour.  When toothpick came out clean I took it out of the oven.  I think next try I would turn the oven down to 325F and bake 60 minutes, or until the toothpick came out clean.
If the Marzipan is too hard to roll out, try using a small amount of egg white to it.  You do not need xanthan gum because it is already in the carrot cake mix.