Celiac.com 12/23/2015 - Got some ribeye? Some provolone? Good, grab the ribeye and the cheese, along with some onions, green peppers, and corn tortillas. Tortillas? Yeah, tortillas.
This simple variation turns the traditional Philly Cheesesteak into a quesadilla. It makes a great holiday snack, or as an anchor for your favorite football games.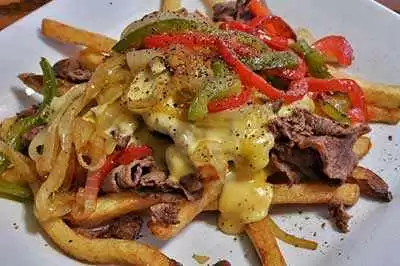 Will it be like on original Philly Cheesesteak? No! It will be a gluten-free version with a Mexican twist that you make at home. But it will put a smile on your face.

Ingredients:
1⁄2 pound deli roast beef or Rib-Eye roast, thinly sliced
1⁄2 pound provolone cheese, thinly sliced
1 white onion, thinly sliced
1 green bell pepper, thinly sliced
2 teaspoons garlic, minced
splash of extra virgin olive oil
salt and pepper
Directions:
Heat a large fry pan over medium-high heat.
When hot, cover bottom with olive oil.
Add the onions and bell pepper and cook, stirring, about 6 to 8 minutes, until caramelized.
Add the garlic, salt and pepper, and cook for about 30 seconds.
Then, push the veggie mixture off to one side of the pan.
Add the meat to the hot part of the pan.
Cook, continuously flipping the meat over and slightly chopping the meat into slightly smaller pieces with 2 spatulas, until the meat is no longer pink, about 2 minutes.
Mix the meat and the caramelized onions and bell pepper together.
Divide into two portions, and top both portions with the cheese to melt.
In the last minute or so, toss the corn tortillas on the grill until they start to soften. Grill both sides, then top with the meat and cheese mixture. Top with a final grilled tortilla. Flip again and cook a few seconds before removing. Serve hot.
Don't dig quesadillas? Grab some of your favorite gluten-free bread and go traditional, or cook up some french fries and top them with the cease steak mix. You really can't go wrong.