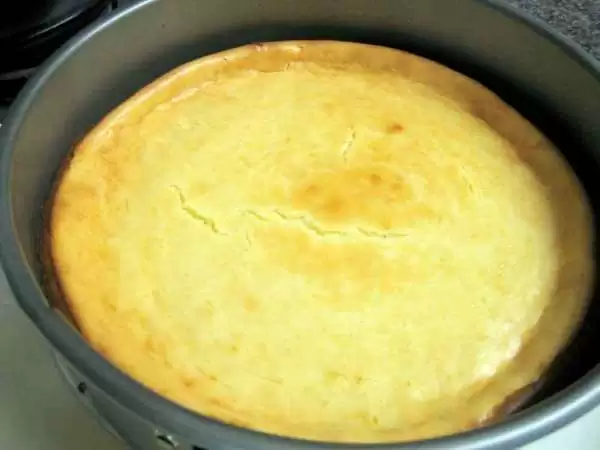 Caption: The finished cheesecake--time to pour on the caramelized apples! Image: CC BY 2.0--Stacy Spensley
Celiac.com 12/19/2020 - If you're looking for a rich, delicious and gluten-free dessert to serve this holiday season, then this delightful cinnamon apple cheesecake in a gluten-free almond meal crust is sure to be a holiday hit. 
Almond Crust Ingredients:
½ cup butter, softened, room temperature
¼ cup packed brown sugar
½ teaspoon ground cinnamon
¼ cup quick-cooking oats
¾ cup finely crushed almonds
¾ cup almond meal
2 tablespoons granulated sugar
---
Celiac.com Sponsor (A12):


---
---
Celiac.com Sponsor (A12-m):


---
Filling Ingredients:
2 packages of cream cheese (8 ounces each), softened
1 can (14 ounces) sweetened condensed milk
½ cup thawed apple juice concentrate
3 large eggs, lightly beaten
Topping Ingredients:
1 tablespoon butter
2 medium tart apples, peeled and sliced
1 teaspoon cornstarch
¼ teaspoon ground cinnamon
¼ cup thawed apple juice concentrate
Directions:
Heat oven to 325°.
Place all crust ingredients in a mixing bowl and mix well. 
Lightly coat the bottom and sides of an 8-inch springform pan with oil. Pour the nut crust mixture into the pan.
Use the bottom of a measuring cup or glass to press the crumbs down into the bottom and 1-inch up the sides of the pan.
Place crust in oven and bake about 5 minutes, or until the crust is slightly browned. Remove and cool on a wire rack.
In a large bowl, beat cream cheese until fluffy. 
Gradually beat in milk and juice concentrate until smooth. 
Add eggs; beat on low speed just until blended-mixture will be thin. 
Pour into crust. Return pan to baking sheet.
Bake until center is almost set, about 40-45 minutes. 
Cool on a wire rack 10 minutes. Loosen sides from pan with a knife. Cool 1 hour longer. Refrigerate overnight, covering when completely cooled.
Before serving, melt butter n a large skillet over medium heat; sauté apples until crisp-tender, about 5 minutes. Cool slightly.
For glaze, in a small saucepan, mix cornstarch, cinnamon and juice concentrate until smooth; bring to a boil. Reduce heat; cook and stir until thickened, about 1 minute. 
Add 1 tablespoon glaze to sauteéd apples; toss to coat.
Remove rim from springform pan. Cut slices and set onto plates.
Top cheesecake slices with apples, and drizzle with glaze. 
Serve immediately.