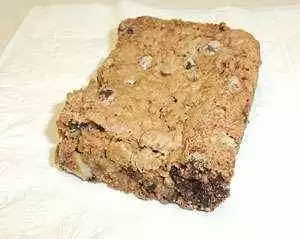 Celiac.com 15/15/2009 - When I first opened the package of Squirrel's Bakery Gluten-Free Coconut and Chocolate Chip Cookie Bars I was surprised by their unique shape: The package contained two bars that are approximately 2.5" x 3" and they are around an inch thick­so they resemble a brownie in size and shape.  They aren't kidding when they use the terms "thick & hearty" to describe these cookie bars.
In addition to being gluten-free, Squirrel's Bakery thick & hearty cookie bars are also soy, dairy and nut-free, so they will appeal to those of you who have additional food intolerances or allergies, as well as to those who have celiac disease.  The bars are made using quality ingredients like Bob's Red Mill gluten-free oats, organic brown rice flour and Enjoy Life gluten, soy, dairy & nut free chocolate chips, and they are also a good source of fiber, iron, calcium and protein (the bars do contain eggs).
---
Celiac.com Sponsor (A12):


---
---
Celiac.com Sponsor (A12-m):


---
The first thing I noticed when biting into the Squirrel's Gluten-Free Coconut and Chocolate Chip bar is the large coconut flakes, which tasted wonderful.  This taste was enhanced by the wonderful combination of their allergy-friendly chocolate chips, along with their blend of gluten-free flours and oats.  The texture was very nice, it was not too moist and not too dry­I've never been a fan of overly-soft cookies or bars. 

The last question that must be answered about this excellent gluten-free "cookie": Could I get used to eating "cookie bars" instead of regular old cookies?  Sure…I really can't imagine anyone who would not enjoy these special treats!  They should please the most die hard cookie lovers, and offer a unique take on a traditional treat. 

Squirrel's Bakery is a small family owned cookie manufacturing business based in Virginia Beach, Virginia and was founded in 2009.