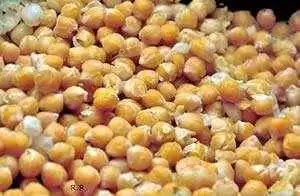 Celiac.com 11/20/2012 - Gluten-free diets are making headlines and trimming waistlines. For those with celiac disease, gluten–free living is prescribed to ensure proper nutrient absorption, but just about everyone can benefit from eliminating gluten from their diet. While going gluten free may sound difficult, the benefits such as increased energy and a smaller belt size are well worth the effort.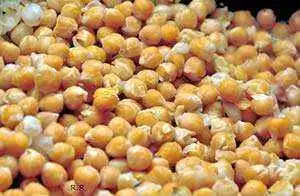 Cutting gluten from your diet is not synonymous with cutting taste. There are so many delicious gluten-free substitutes, one of which is garbanzo bean flour. Garbanzo bean flour, also know as chickpea flour, gram flour and besan is made from grinding dried chickpeas to a fine flour that can be used by itself or blended with other flours. Garbanzo bean flour is an excellent substitute for the gluten-containing flours that are used for baking, such as wheat flour. It can also be used to thicken soups, sauces or gravies.

Garbanzo bean flour is high in protein and low in fat. It is a good source of dietary fiber and iron and is completely grain-free. Garbanzo bean flour contains no cholesterol, sodium or saturated fat. Wheat flour, in contrast, contains 190 mg of sodium, less fiber, no vitamin C and less iron. Garbanzo bean flour is inexpensive, under $3.00 for 22 ounces and recipes required less garbanzo bean flour, 7/8 cup replace one cup of wheat flour. Garbanzo bean flour is easily found in most markets, but you can make your own at home by grinding dried chickpeas in a food processor and coffee/spice blender.

As an experienced clinical nutritionist, I work with people who have a wide variety of health issues. My specialties include the gluten-free diet and weight loss. Over the past 20 years, I have seen significant health improvement in my clients after only one week on the gluten-free diet and continued changes for the better as they embrace a gluten-free lifestyle.

Gluten-free living has changed my life and it can improve yours. The gluten-free diet can help with weight management; it can elevate your energy levels, improve your attention and speed up your digestion. Whatever your motivation is for going gluten free - whether you have celiac disease, gluten intolerance or a desire to live a healthier, stronger life, my book, The Gluten-Free Edge, will help you to achieve your goal. It's an easy-to-read guide to living without gluten that includes 200 delicious gluten-free recipes. This book will also help you with social situations and teach you the key to reading food labels. You will learn how to look for gluten-free products both at restaurants and in your supermarket. The Gluten-Free Edge is equipped with all of the information you need to get through the world without gluten.
---
Image Caption: Photo: CC--EcoVirtual