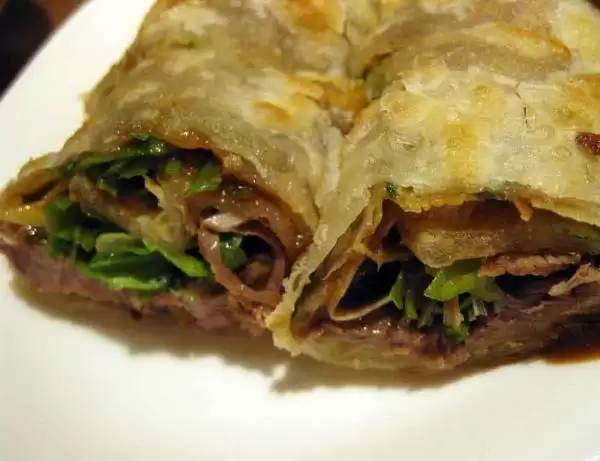 Caption: Image: CC--Andrea Lai
Celiac.com 07/21/2018 - These easy-to-make tortilla wraps make a great addition to your lunchtime menu. Simply grab your favorite gluten-free tortillas, a bit of cream cheese, some charred fresh sweet corn, creamy avocado and ripe summer tomato. Add a bit of sliced roast beef and some mayonnaise and hot sauce, and you're in business. And it's all ready in about half an hour. If you cook the corn the night before, they can be ready in just a few minutes.  
Ingredients:
12 ounces thinly sliced cooked beef, sliced
6 burrito-sized gluten-free tortillas
1 ripe medium avocado, diced
1 large tomato, diced
½ medium red onion, thinly sliced
¼ cup mayonnaise
2 ears sweet corn, husks and silk removed
1 teaspoon olive oil
¾ cup soft cream cheese spread
1-2 teaspoons gluten-free hot sauce of choice
Sprouted pea greens, as desired
fresh salsa, as desired
---
Celiac.com Sponsor (A12):


---
---
Celiac.com Sponsor (A12-m):


---
Directions:
Heat grill to medium-hot. 

Brush corn with olive oil. 

In a small dish, blend mayonnaise and hot sauce. Adjust mixture, and add fresh salsa, as desired.

Grill corn for 8 to 12 minutes, turning as it browns and lowering heat as needed until corn is tender and charred in some places. 

Cool slightly; cut kernels from cobs.

Spread 2 tablespoons cream cheese on one side of each tortilla to within ½-inch of edge; arrange beef slices to cover.

Spread beef with mayonnaise hot sauce mixture as desired.

Place a bit of grilled corn kernels, avocado, tomato and red onion in a 3-inch strip along one edge of each tortilla. 

Fold ends and roll into a burrito shape, and serve. I like to add sweet, crunchy pea greens for some extra crunch and nutrition.

Note: If you like, you can heat tortillas in advance. You can even put a little butter on them, and lightly brown them in the pan first, as shown in the picture.