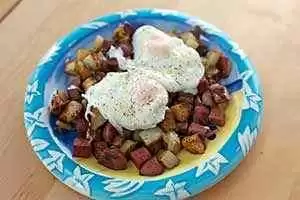 Caption: Photo: CC--Daryn Nakhuda
Celiac.com 03/12/2015 - What to do with leftover corned beef and cabbage? Why, prepare an amazing brunch feast that will have your guests smiling.
Making this corned beef hash Benedict is a simple matter of quickly combining a few ingredients.
---
Celiac.com Sponsor (A12):


---
---
Celiac.com Sponsor (A12-m):


---
Ingredients:
4 medium potatoes, boiled firm and cubed or roughly mashed
2 cups corned beef
2 tablespoons butter
¾ cup onions, cooked, reserved from corned beef
¾ cup cabbage, cooked, reserved from corned beef
½ cup red or yellow bell pepper, diced
salt and pepper
8 eggs, poached
Hollandaise sauce, see recipe below
Directions:
First, make your Hollandaise sauce using the recipe below.
Next, start with fully cooked corned beef and cabbage.
In a skillet cook chopped onion, a diced yellow bell pepper in olive oil until they start to brown.
Add the boiled potatoes and cook, stirring until brown.
Add in 2 cups of chopped up corned beef, and some salt and pepper. Cook until hot.
In a separate skillet with a fitted lid, toss the cabbage with ½ cup of the reserved cooking liquid from the corned beef.
Cover and cook until softened.
Once done, reserve 1 tablespoon of the liquid, and drain the rest away.
Either add the cabbage and remaining liquid to the corned beef hash, or serve on the side.
Spoon onto a plate and top with poached, or over-easy egg and hollandaise sauce.
Gluen-Free Hollandaise Sauce Recipe
Ingredients:
4 egg yolks
1 tablespoon freshly squeezed lemon juice
½ cup unsalted butter, melted (1 stick)
Pinch cayenne
Pinch salt
Directions:
Melt butter and put aside.
Whisk egg yolks and lemon juice together in a glass or steel bowl, until the mixture thickens and doubles in volume.
Place the bowl over a saucepan containing barely simmering water (or use a double boiler). If using using saucepan method, be sure to keep the bottom of the bowl out of the water. You just want the heat from the hot water.
Continue to whisk rapidly. Be careful not to let the mixture get too hot or the eggs will scramble. Slowly add the melted butter and keep whisking until the sauce is thickens more and doubles again in volume.
Remove from heat, whisk in cayenne and salt. Spoon over eggs, veggies, or whatever you like.
If you need to, you can cover the pot and keep it in a warm spot until ready to use. If the sauce gets too thick, whisk in a few drops of warm water and stir to desired consistency before serving.