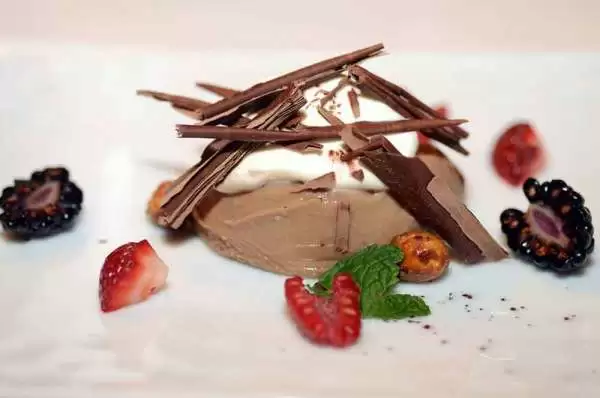 Caption: Image: CC--Kurman Communications, Inc.
Celiac.com 03/23/2019 - Want a killer gluten-free dessert that's easy to make, perfect for spring, and practically guaranteed turn some heads and draw rave reviews? Try these butterscotch pots de creme. If you're unfamiliar, butterscotch pots de creme is a French dessert that's a delightful marriage of creme, butter, sugar, egg yolks, and a bit of vanilla bean. Simple, right? Simple, but deceptively, deviously delicious. And delightfully gluten-free. Enjoy!
Ingredients:
3½ cups heavy cream
1 teaspoon vanilla extract, or one real vanilla bean, if you like
3 tablespoons Scotch whiskey
4 tablespoons salted butter
1¼ cup dark brown sugar (regular brown sugar in a pinch)*
9 egg yolks, beaten
pinch of salt
---
Celiac.com Sponsor (A12):


---
---
Celiac.com Sponsor (A12-m):


---
Directions:
Heat oven to 350 degrees.

Place the cream in a heavy-bottomed pot over medium heat. 

Add vanilla. If using the bean, then split the vanilla bean, scrape the seeds into the cream and drop in the pod, as well. 

Bring the cream and vanilla to a simmer. 

Remove the vanilla pod and discard.

In a separate pan, melt the butter with the sugar, whiskey, and a pinch of salt.

Heat the mixture until it begins to bubble. 

Slowly whisk the heated cream mixture to the butter and sugar mixture.

Beat the egg yolks well. 

Slowly whisk a bit of the hot cream-butter mixture into the yolks to help warm them up.

Then slowly whisk the warmed yolks into the hot cream-butter mixture, until well mixed and thick.

Pour mixture into six 6-ounce ramekins. 

Place ramekins in a baking pan with high sides. 

Add hot water to the baking pan until halfway up the sides of the ramekins. 

Cover pan with foil and bake for 30 to 35 minutes, or until the mixture sets. 

Allow to cool, and serve at room temperature.

Tops with whipped cream, chocolate shavings, fresh berries and a dash of sea salt, as desired.

*If you want to get fancy, you can use dark Muscovado sugar, which is available at specialty shops.