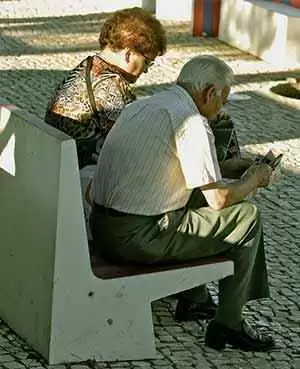 Caption: Photo: CC--pedrosimoes7
Celiac.com 05/02/2012 - Doctors and researchers are still debating the usefulness of active blood screening for spotting celiac disease in older populations. Studies do suggest that many cases of celiac disease go undetected, especially in the older population. One unanswered question is whether screening does any good for older people who have been eating gluten many decades.

A team of researchers recently studied the clinical benefit of a gluten-free diet in screen-detected older celiac disease patients. The research team included Anitta Vilppula, Katri Kaukinen, Liisa Luostarinen, Ilkka Krekelä, Heikki Patrikainen, Raisa Valve, Markku Luostarinen, Kaija Laurila, Markku Mäki, and Pekka Collin.
For their study, the researchers evaluated the benefit of active detection and implementation of a gluten-free diet in elder populations with for celiac disease.
The team evaluated thirty-five biopsy-proven celiac patients over 50 years of age, each of whom had celiac disease detected by mass blood screening.
They looked at bone mineral density, dietary compliance, disease history, quality of life, and symptoms at baseline and after 1-2 years of a gluten-free diet. They also looked at small bowel biopsy, serology, laboratory parameters assessing malabsorption, and bone mineral density.
Using surveys, the team established gastrointestinal symptom ratings and quality of life by psychological general well-being. The used this information to rate symptoms.
They found patient dietary compliance to be good overall.  Initial tests on the patients showed reduced serum ferritin levels, pointing to subclinical iron deficiency. This trend reversed after patients followed a gluten-free diet.
Initially low vitamin B12, vitamin D and erythrocyte folic acid levels increased significantly on a gluten-free diet.
Patient histories showed that those with celiac disease had sustained more low-energy fractures, and sustained such fractures more frequently than the general population. A gluten-free diet brings with it a beneficial increase in bone mineral density.
The team also noticed that many gastrointestinal symptoms disappeared, even though though many patients reported only subtle symptoms upon diagnosis.
Quality of life remained unchanged. According to the study team, two out of three patients would have been diagnosed even without screening if the family history, fractures or concomitant autoimmune diseases had been factored in.
Results showed that patients who had celiac disease detected by mass blood screen did, in fact, benefit from a gluten-free diet. For doctors evaluating older patients, the team advocates a high index of suspicion and active case-finding in celiac disease as an alternative to mass screening.
Source: