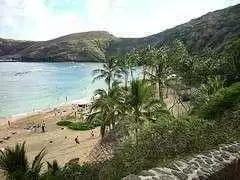 Caption: Gluten-free travel to Hawaii is possible! Photo: CC-Jordan Emery
Celiac.com 10/19/2010 - The plane soared above the vast, blue Pacific Ocean as the gorgeous state of Hawaii loomed beneath it.  When we descended into our tropical destination of Maui, my stomach was a bundle of excited energy, with visions of walks along the beautiful sandy beaches and lounging poolside, soaking in the sun's rays.  My husband and I'd planned this trip for months—budgeted for the most cost effective airfare, researched affordable hotels, packed swimsuits and summer clothing for our family of five.  Yet, as every person with celiac disease understands, traveling has its hidden dangers of gluten-contaminated food, restaurants that aren't attuned to the needs of food intolerance sufferers, and the common question of: what am I going to eat when I'm away from my comfort zone, away from my home?
          
Our adventure began in a resort on the Ka'anapali Shores of Maui, as the sun was setting and a warm breeze rustled through the swaying palm trees.  While my family mapped out their wish list of activities to embark on during our paradise vacation, I brainstormed what I'd eat in the land of sugar cane, flowered leis, and tropical fruits.  As the warm sun rose each morning, I ate the breakfast bars I'd packed in my suitcase along with a cup of Hawaiian Kona coffee, which we purchased after arriving.  For coffee lovers, I highly recommend it, www.konacoffee.com.  Kona coffee was available at the hotel gift shop, grocery store, and sold as whole beans packaged at the local Starbucks.
          
Although my diet for the week relied heavily on grilled chicken salads, fresh fruits, vegetables, and almonds, I also sampled local restaurants with my family.  We were interested in venues that offered a children's menu, had a welcoming and fun atmosphere, and were possibly places providing a chance for exploration and cultural experience.
Cheeseburger in Paradise
Anyone who's ever listened to the song, "Cheeseburger in Paradise" by Jimmy Buffet, will understand my desire to eat at the restaurant.  Maui's Cheeseburger in Paradise is located on Front Street in beautiful Lahaina.  The two story restaurant sits beside the water, as a cool breeze wafts through a windowless dining area, while patrons enjoy cocktails and their signature burgers and steak fries.  When I spoke to the hostesses, dressed in festive grass skirts, I was informed that they did not have a gluten-free menu, but could accommodate gluten intolerant guests by serving burgers without buns and salads.  Although I contemplated ordering one of the grilled salads, I ultimately decided upon the signature Cheeseburger in Paradise, minus the bun, and a basket of sweet potato fries.  I might have been tempted to try the steak fries as well, but learned from my server that they are flavored with a seasoning salt containing gluten.  It was a pleasant experience and my only wish was that I'd have brought a license plate to hang on the restaurant wall with others from across the country.  If interested, check out their website at, www.cheeseburgerland.com.
---
Celiac.com Sponsor (A12):


---
---
Celiac.com Sponsor (A12-m):


---
Old Lahaina Luau


Also located on Front Street in Lahaina, Hawaii, this Luau is worth attending if only for the traditional Hawaiian Hula performance.  The Old Lahaina Luau is a family affair located beside the ocean, providing a beautiful sunset view, as ceremony and tradition are celebrated following pre-dinner learning activities for both adults and children.  Upon entering the Luau, girls are presented with a flower for their hair and everyone is given a fresh flower lei.  Adults are offered the signature island alcoholic beverage, a Mai tai—it is up to the patron whether or not to accept it.  Before attending the Luau we called in advance and requested a gluten-free menu.  This gluten-free request was confirmed by my server when I arrived.  Additionally, I was presented with a complete food ingredient list by him for the buffet.  I would advise anyone with a gluten intolerance to request a gluten-free meal because while reading the ingredient list, I discovered most of the dishes contained soy sauce.  As I joined my family in choosing fresh fruits, salad, and vegetables from the buffet line, my server placed a warm, freshly prepared gluten-free meal of grilled chicken breasts and steamed vegetables where I was seated.  Overall, it was an amazing night and a wonderful time to experience a traditional Lu'au while enjoying a delicious meal.  For more information or to make a reservation: www.oldlahainaluau.com.

Pacific Whale Foundation Lana'i Snorkel and Dolphin Watch Eco-Adventure
The non-profit Pacific Whale Foundation offers several eco-adventures for people wishing to experience the marine life of Hawaii.  We chose to take the five hour Snorkel and Dolphin Cruise, which provided a continental breakfast, barbeque lunch, and refreshments.  After departing from Lahaina Harbor, snorkel gear and flippers in hand, we sailed patiently through the choppy waters of the Pacific Ocean in search of dolphins.  We weren't disappointed when about an hour into our adventure we spotted several spinner dolphins spectacularly jumping out of the pristine blue water to entertain us.  In preparation for this voyage, I called ahead to inquire about food offerings and was assured that a gluten-free meal would be provided to me.  I came to find out, while on the cruise, that it was basically a standard meal for all passengers, in which I was to choose only the food that didn't contain gluten.  As I live with a family who normally consumes gluten, this picking and choosing was not uncommon to me.  For breakfast, I sampled fresh pineapple and passed on the banana bread.  For lunch, I ate barbecued chicken with lettuce and tomato.  As a service to vegetarians, a veggie burger is provided upon request.  I would certainly recommend this cruise for people that are interested in dolphin sightings or who want to be introduced to snorkeling.  For those who have celiac disease, I'd also suggest bringing along some extra snacks.  For more information, www.pacificwhale.org.

Hard Rock Café Maui
In an effort to introduce my children to the cultural likes of good old rock and roll, I suggested that we eat dinner at the Hard Rock Café, located in the Old Lahaina Center, of Maui.  I was happy to find that a children's menu was available, but slightly disappointed to learn that a gluten-free menu wasn't.  Our server, however, was more than helpful, willing to look at food ingredients in the computer for me and alert me to items containing gluten.  Unfortunately, the nachos I'd been craving contained wheat, so I instead ordered a cheeseburger, minus the bun.  It was my second cheeseburger of the week and I was truly unable eat a quarter of it because it was such a generous portion.  The atmosphere was lively and loud, nothing less than what I'd expect from a Hard Rock Café.  It was a fun night out and I was happy to leave with a Hard Rock Café Maui tee-shirt from the restaurant gift shop.  If you're looking for a quieter venue and are interested in seafood, there is a Bubba Gump Shrimp Company located directly across the street from the Hard Rock Café, providing shrimp and lots of Forrest Gump memorabilia.  Hard Rock Café's website is www.hardrock.com.  Bubba Gump Shrimp's website is www.bubbagump.com.

Our vacation to Maui was primary restricted to the beautiful Ka'anapali Shores and town of Lahaina, therefore I didn't explore a lot of the island, nor did I locate any grocery stores providing a gluten-free selection.  This is not to say that they don't exist, rather, that I was not able to shop at one.  I'd recommend travelers to take their own gluten-free snacks, as long as they are approved through the agricultural inspection.  Hawaii is a state full of fresh produce, including savory pineapple, seafood, and sweet potatoes, which provide many healthful options for those with celiac disease.  My family also enjoyed the thirst quenching and tasty shaved ice, www.ululanisshaveice.com, and the extremely delicious frozen treat, gelato, and its dairy-free counterpart, sorbetto, www.onogelatocompany.com.

For the residents of Maui, I appreciate your understanding and willingness to accommodate my gluten intolerance.  To you I say, "mahalo."