Caption: Photo: CC - Unique Hotels Group
Celiac.com 04/16/2012 - Can I eat our at restaurants if I'm on a gluten-free diet?
Eating out gluten-free is not as easy as it seems.  If you Google "gluten-free restaurants," your bound to find a selection of gluten-free menus and gluten-free yelp reviews.  However, a global definition for gluten-free does not exist in the restaurant world.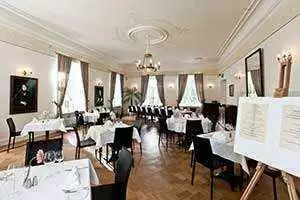 Many times, restaurants, bakeries and deli's offer gluten-free options like salads (with menu side notes like: order salad without croutons or order meat without bread).  If we define gluten-free as less than 20ppm, then the following factors must be followed to ensure safety from gluten contamination (please note this is only a partial list):

Eating Salads Out

Use of a Separate Strainer: Using a strainer that has been used for pastas or other gluten products, can result in cross contamination.
Salad Dressing: Many salad dressing utilize gluten containing ingredients like malt vinegar, spices, natural flavorings, wheat, etc.
Vegetable Chopping Board: A vegetable chopping board must either be completely sterilized or a gluten-free dedicated board must be used.
Knife: Knife must be sterilized with heat before being used on gluten-free ingredients.
Prep Area: Salad prep stations are often housed beneath shelves filled with bread.  If bread is stored above the salad prep area, then the area cannot be safely maintained as gluten-free.  On an additional note, croutons and other gluten products should not be allowed in the gluten-free prep area (1/6th of a bread crumb is all it takes to be contaminated with gluten).
Salad Toppings: If a topping like chicken, nuts, tofu, peppers or onions are sautéd or prepared on a grill, then the grill and the ingredients must be maintained as gluten-free.
Gluten-Free on the Grill
A grill must be cleaned before a gluten-free product is cooked on it. A separate area for gluten free foods to be cooked is ideal, but not always possible in restaurant settings.
Many meats are marinated in sauces containing gluten before they are cooked.
Gluten Free Pizza & Bakery Products
If an exhaust fan is used in the oven, a screen must be used.
Pizza toppings for gluten free pizza should be housed in a separate area.
Cannot be prepared in a facility that uses gluten containing flours, because flour dust in the air settles on food.
Mixing utensils, wooden spoons, scrapes in bowls and cutting boards must be sterile or maintained for just gluten-free products.