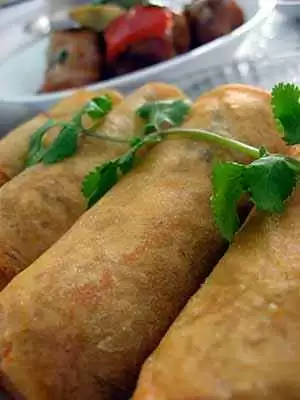 Caption: Photo: CC--miss karen
A crispy deep-fried egg roll which tastes like the real thing! Fill with barbecued Chinese pork and Napa cabbage (recipes provided),or your favorites, or even left-overs!
Ingredients:

For the Filling:
1 Tablespoon + 1 ½ teaspoons cooking oil, divided
3 eggs, beaten
1 head Napa cabbage, finely shredded or chopped
1/2 carrot, julienne cut (matchsticks)
1 recipe Chinese Barbecue Pork*, julienne cut, (or left over chicken w/BBQ sauce)
2 shallots (green onions), thinly sliced (or 2 Tablespoon minced yellow onion)
Handful of sprouts (optional)
Handful of mushrooms, julienne sliced (optional)
1 Tablespoon gluten free soy sauce
1 teaspoon sugar or evaporated cane juice
3/4 teaspoon superfine sea salt
For the Wrappers:
1 package Three Ladies Rice Papers, square or round
Filtered water
1 7/8 cups white rice flour
4 large egg yolks
2 cups cow's milk, (or dairy-free susbsitute)
2 teaspoons sugar
1 teaspoon fine sea salt
2 quarts or more of cooking oil for deep-frying

Instructions:
Set your chopped cabbage in a colander; squeeze out as much excess water as you can.
On medium heat, add 1 1/2 teaspoons of oil in a wok or large skillet.
Pour in beaten eggs and scramble. Set aside to cool and then chop.
Add 1 tablespoon of oil in the same pan and preheat.
Add the carrots, and onion, if using yellow onion; cook for 2 minutes.
Add cabbage and cook for 3 more minutes.
Add the pork, green onions (if using), soy sauce, salt, and sugar; continue cooking until the vegetables soften, about 6 minutes.
Add chopped egg and toss.
Spread the mixture out onto a baking sheet and refrigerate to cool, about 1 hour. You'll find the juices will be absorbed once cooled. If not using immediately, cover once cooled and keep refrigerated. Use within 2-3 days.
Add the flour to a large bowl.
In a separate bowl, beat egg yolks, salt and sugar; add milk and whisk. Add the wet ingredients to the dry and whisk thoroughly; set aside.
Fill a baking sheet with about 2 cups of room temperature water. Soak one rice paper in the water, right before you are about to fill one, for 5 seconds (as suggested by Three Ladies brand). Do not over soak. The paper will still appear hard, but will soften very soon. Place it on a damp tea towel. Do not use paper towels or they will stick to it. Rewet the towel as needed.
If using square rice papers, place one in front of you so that it appears as a diamond shape. If using round ones, it doesn't matter. Add 3-3 1/2 tablespoons of filling close to the bottom. An ice cream scoop with spring action works well for this. Roll towards the middle and stop. Fold in the left and right corners. Then roll all the way to the top edge.
When you are almost done with rolling, preheat a deep-fryer or pan filled with 2" of oil to 375°F. A deep-fryer works best, as it is difficult to keep the temperature even over the stove. However, it can be done. Note that when you add the egg rolls to the oil the temperature drops significantly, especially if the egg rolls just came out of the refrigerator.
Using metal tongs, dip one at a time into the batter, shaking off excess; gently drop as many as can comfortably fit into the hot oil; turning occasionally.
Deep-fry for about 7 minutes or until golden brown and crisp. They may look brown enough at 5 minutes, but they will not be crisp enough.
Drain on paper towels, and serve warm with your favorite sauce. I used half of the thickened sauce from my Chinese BBQ Pork recipe* and half of my Tomato-Free Barbecue Sauce recipe*.
*Visit my site for these recipes!