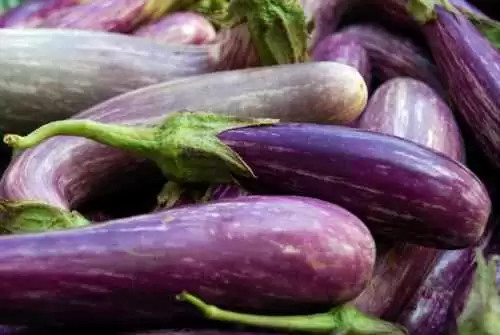 Caption: Eggplants and chickpeas anchor a great stew. Photo: CC--Alice Henneman
Celiac.com 09/02/2017 - This light, yet hearty eggplant chickpea stew is a tasty way to a heart-healthy meal. It goes great over rice.
Ingredients:
2 large eggplants (about 1½ pounds each)
2 large onions, thinly sliced
1½ cups dried chickpeas, rinsed and soaked overnight and drained
1 28-ounce can tomatoes, drained and coarsely chopped
1 ounce dried Porcini mushrooms, re-hydrated
3 teaspoons dried oregano, crumbled
1 bay leaf
3 cups hot water
3 tablespoons extra virgin olive oil, divided
6 cloves garlic, minced
1 small (1-inch) cinnamon stick
1 teaspoon salt
1 teaspoon freshly ground pepper
⅓ cup finely chopped fresh parsley
---
Celiac.com Sponsor (A12):


---
---
Celiac.com Sponsor (A12-m):


---
Directions:
Heat oven to 400 degrees Fahrenheit.

Soak dried mushrooms in a bowl of hot water for 30 minutes.

Strain liquid through a sieve lined with a paper towel and set aside.

Chop the mushrooms finely.

Cut eggplants in half lengthwise. Brush the cut sides liberally with 2 tablespoons oil.

Place on a rimmed baking sheet, cut-side down, and roast until tender, about 25 minutes.

Let stand until cool enough to handle.

Cut into 1-inch cubes and transfer to a 4-quart (or larger) slow cooker.

Meanwhile, heat the remaining 1 tablespoon oil in a large skillet over medium heat.

Add onions and cook, stirring frequently, until softened, 3 to 6 minutes.

Add garlic, oregano, cinnamon stick, salt, pepper, bay leaf and the chopped mushrooms.

Cook and stir for 1 minute.

Add the chickpeas and the liquid reserved from the mushrooms.

Bring to a boil and cook, stirring occasionally, for about 5 minutes.

Transfer to the slow cooker and stir to combine with the eggplant.

Cover and cook until the chickpeas are very tender, about 4 hours on High or 7 to 8 hours on Low heat.

Remove cinnamon stick and bay leaf.

Stir in tomatoes and parsley.

Serve over rice as a standalone meal or as a side.