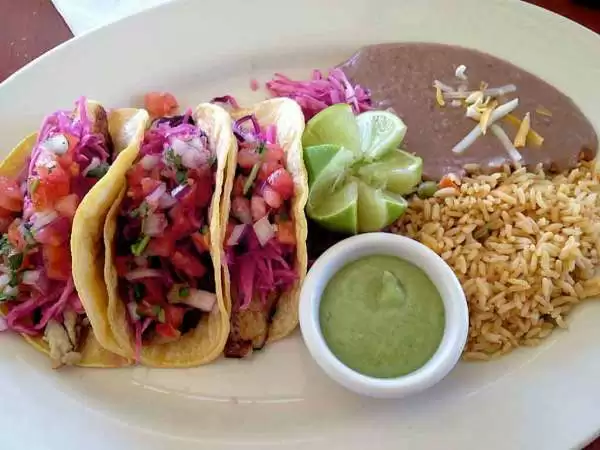 Celiac.com 09/30/2020 - Looking for an amazing dish to help you turn some corners at your next cookout? These amazing fish tacos al pastor are just the ticket! Seasoned just like your favorite pork al pastor, these tacos are guaranteed to disappear and leave your guests clamoring for more.
Ingredients:
3 pounds skinless striped bass, cut into 1-inch strips
10 guajillo chiles
3 morita chiles
½ cup fresh orange juice
¼ cup store-bought or homemade achiote paste
5 garlic cloves, divided
¼ cup plus 3 tablespoons fresh lime juice
1 tablespoon plus 1½ teaspoons kosher salt
½ red onion, finely chopped
1 habanero chile, finely chopped
2 cups finely chopped pineapple (from about ½ medium pineapple)
3 tablespoons chopped cilantro, plus whole leaves for serving
Vegetable oil (for grill)
16 gluten-free corn tortillas
Lime wedges (for serving)
---
Celiac.com Sponsor (A12):


---
---
Celiac.com Sponsor (A12-m):


---
Note: Make pineapple salsa up to 4 hours ahead. Keep chilled.

Directions:
Boil guajillo and morita chiles and 1½ cups water in a medium saucepan. 

Cover, remove from heat, and let sit 30 minutes until chiles soften.

Place fish in a large bowl or baking dish. 

Transfer chile mixture and soaking liquid to a blender. 

Add orange juice, achiote paste, 4 garlic cloves, ¼ cup lime juice, and 1 tablespoon salt, and purée until smooth, about 2 minutes. 

Reserve 1 cup chile sauce for serving; leave uncovered at room temperature. 

Pour remaining purée over fish; toss to coat. Cover and chill 1–3 hours.

Meanwhile, mix onion, habanero chile, pineapple, 3 tablespoons cilantro, and remaining garlic clove, 3 tablespoons lime juice, and 1½ tsp. salt in a medium bowl. Cover and chill until ready to use.

Prepare a grill for medium-high heat; thoroughly clean grates and brush with oil. 

Place fish on the hot grill, leaving a few inches of space between each piece.

Grill about 2-3 minutes, until marinade is dried and begins to caramelize and char. 

Use a fish spatula to release fish from grate, turn, and grill about 2-3 more minutes on second side, until charred, and flaky. 

When fish is charred and flaky, transfer to a cutting board and let rest 10 minutes.

Grill tortillas until just beginning to char, about 30 seconds per side.  

Lightly smear each tortilla with reserved chile purée, and top with a piece of fish, a spoonful of pineapple salsa, and a pinch of cilantro, as desired. 

Serve with Spanish rice, re-fried beans, pico de gallo, and lime wedges.