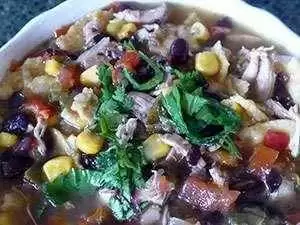 Caption: The finished Frontier Soup mix.
I love homemade soups, especially chicken tortilla soup, but found it nearly impossible to find a gluten-free recipe that didn't consume most of my day...until now!  I recently tried Frontier Soups gluten-free "South of the Border Tortilla Soup Mix" and ended up with a homemade taste without all the work.  All I had to do was throw in some cooked chicken (perfect for those chicken leftovers), a jar of salsa, and some tortilla chips.  I was also very pleased to see that there was no added salt, preservatives or MSG, and the entire process only took 35 minutes!
Visit their Web site for more info: http://www.frontiersoups.com/p-F-TO-Tortilla-Soup.html.

Note:Articles that appearin the "Gluten-Free Food & SpecialtyProduct Companies" section ofthis site are paid advertisements. Formore information about this seeour AdvertisingPage.