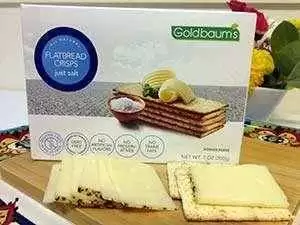 Any company making an "all natural" product these days better deliver the goods and Goldbaums does. These crackers are not only free of gluten and wheat, they are also GMO free, have no preservatives, trans fats or artificial flavors and are Kosher.

I am amazed at how the flour made of ground chickpeas tastes like regular flour–if you weren't told you would never know the difference. These crackers are delicate and make a great snack or as an appetizer loaded with your favorite toppings.
For more information visit: www.goldbaums.com
Review written by Patricia Seeley.