Celiac.com 11/03/2008 - I've always had trouble getting my kids to eat salads, so when I first saw this recipe I immediately wondered if this would be the one that "does the trick," and convinces them that salads are not just good for you, but can also taste good too. What I liked best about this recipe was how simple it was to prepare. Most chicken salad recipes that I've made involve cooking—and fortunately this one uses Valley Fresh Canned Chicken (which is gluten-free, the ingredients are very basic: white chicken, water and sea salt)—so it is ready-to-eat directly from the can, and does not require any cooking. 
It took me about 15 minutes to make the recipe, and another 10 minutes to chill the finished salad before serving it, so the total preparation time on the recipe of 25 minutes is accurate. The finished salad looks fun, and the first thing my kids said when they saw it was "fruit salad...yummy!" My three-year-old daughter's reaction to her first bite was "mmmmm," so I was half way there. My seven-year-old son is harder to please than my daughter, but since he thought that it was fruit salad he was willing to try it...this alone was a victory. And his reaction—two thumbs up!
So I finally "tricked" them into liking a salad—and I did it by using an excellent salad recipe that combines a range of healthy ingredients that include fresh fruits, vegetables, yogurt and Valley Fresh Canned Chicken. Oh, by the way, adults will like this recipe too! I would recommend this simple recipe to anyone who wants to eat a healthy salad (end even for those who are hard to please!). See the recipe and pictures below.

Valley Fresh Gluten-Free Fruited Chicken Salad
Serves: 4
Prep Time: 15 minutes
Total Time: 25 minutes
Ingredients
Dressing:

1/4 cup plain yogurt
1 tablespoon orange juice
2 teaspoons honey
1 teaspoon poppy seeds
1/8 teaspoon ground ginger
1/8 teaspoon garlic powder, optional

Salad:
1 (10 ounce) can Valley Fresh 100% Natural White Chicken, drained
1 peach, peeled and sliced
1/2 cup seedless green grapes, cut in half
1/2 cup seedless red grapes, cut in half
Lettuce
1 ounce shredded reduced-fat Monterey Jack cheese

Directions

:
Mix together yogurt, orange juice, honey, poppy seeds, ginger, and garlic powder. Add chicken and fruit. Toss gently to coat. Serve chilled on lettuce and garnish with cheese.


Photo 1: Valley Fresh Canned Chicken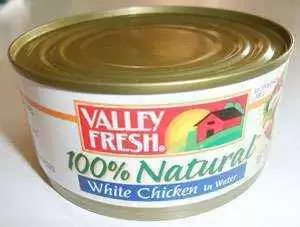 Photo 2: The ingredients

Photo 3: Prepped ingredients

Photo 4: Mixed ingredients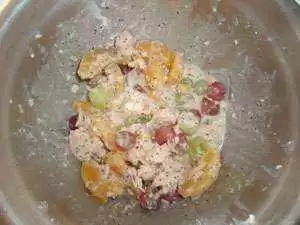 Photo 1: Finished salad