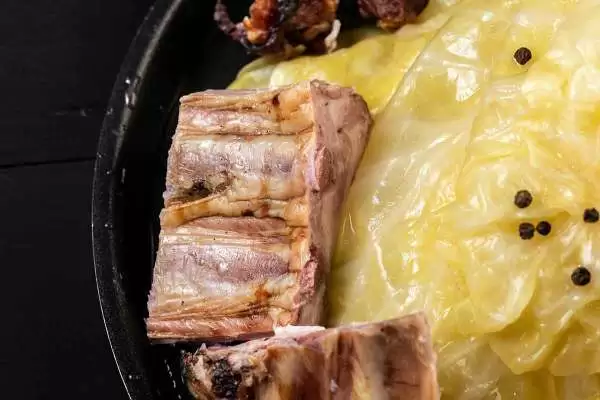 Caption: Image: CC BY 2.0--wuestenigel
Celiac.com 04/01/2021 - These days, probiotic foods are big business. Well, sauerkraut is one of the original probiotic foods, and it remains one of the best.
Now, you may be familiar with sauerkraut as a side or topping for hot dogs, sausages, pork chops, and countless other German-style dishes. But sauerkraut soup may have eluded you. If you're a not German, or unfamiliar with the dish, you might wonder how sauerkraut soup could be as delicious as it turns out to be. Make some and you'll find a tasty new dinner friend. 
---
Celiac.com Sponsor (A12):


---
---
Celiac.com Sponsor (A12-m):


---
The first time someone asked if I'd like sauerkraut soup for dinner, I looked at them sideways. My bad. The soup that I at first regarded with the skepticism of the uninitiated has become a regular staple in our soup rotation. This recipe delivers a fresh and easy take on this traditional German soup. And don't let the sauerkraut part fool you, the soup isn't sour, or watery. It's rich and savory and delicious. Serve it with toasted gluten-free sourdough bread for a hearty and delicious meal.
Gluten-Free German Style Sauerkraut Soup
Ingredients:
2 pounds pork spareribs
3 quarts water
2 cups diced peeled potatoes
2 carrots, chopped
1 teaspoon salt
½ teaspoon black pepper
4 cups sauerkraut, rinsed and drained
1 pound smoked sausage, cut into 1-inch slices
5 bacon strips, diced
1 large onion, chopped
Directions:
In a stock pot, cook ribs in water until tender, about 1½ hours. Skim off foam. Remove ribs from broth; strain broth and skim fat.
Return broth to the heat. 
Add the potatoes, carrots, salt and pepper; simmer until vegetables are tender. 
Remove meat from bones and add to broth with the sauerkraut and sausage.
Meanwhile, cook bacon until crisp; remove to paper towels to drain. 
Discard all but 1 tablespoon of the drippings. 
Cook onion in drippings until tender. 
Add to soup; cook 20-30 minutes longer.
Ladle into bowls. Garnish with bacon.