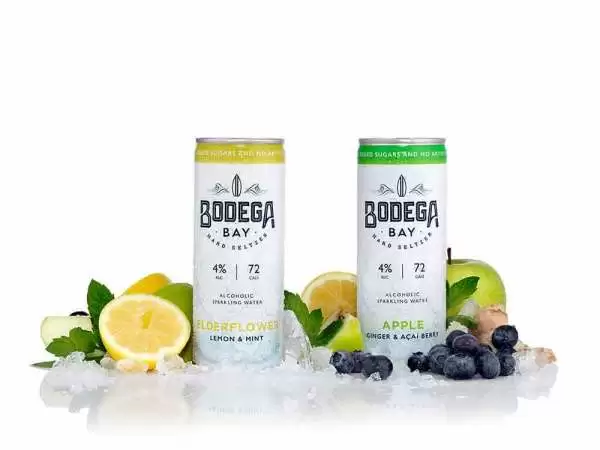 Caption: Bodega Bay Hard Seltzers. Image: CC BY-SA 4.0--Charliemarkland
Celiac.com 03/26/2020 - Hard seltzers are the new drink on the scene, and many are gluten-free. Most of these products are brewed on premises by small breweries, and so not intended for mass consumption. So, brands like Stray Forth, and K4 may not be household names yet, but the market is thirsty enough to see a small explosion of hard seltzers in breweries around the country, especially in the midwest. You can experience the phenomenon in many small brew pubs across the nation, in places like Kinney Creek in Rochester, Minnesota.
In addition to being gluten-free, hard ciders are lower alcohol than traditional beers, with fewer calories. They also come in novel flavors, like Root Beer, Citrus, Spicy Pineapple, Margarita, Strawberry Lemonade, and many more. The combination of novelty and fewer calories makes them a strong alternative choice among younger drinkers.
---
Celiac.com Sponsor (A12):


---
Many, like Kinney Creek seltzers are also gluten-free. "I believe this is a new generation of drinkers that want something a bit lighter on the calories and carbs that you see in traditional beer styles," says Kinney Creek owner and head brewer Donovan Seitz.

Seitz adds that the growing popularity of hard seltzers, along with the need to produce products that were vegan and gluten-free, "made it an easy decision to brew a malt beverage that is gluten-free and vegan-friendly."

Kinney Creek is located at 1016 7th St. NW, Rochester, MN, and produces 13 different hard seltzers, all of which are gluten-free and vegan.

So far, the seltzers have been a major success at Kinney Creek. According to Seitz, "When we started selling them in October, we really had no idea what to expect. Today, it has added a noticeable increase in regular beer sales and the seltzers now have their own dedicated production space in the brewery, so we can keep up with demand. Rochester loves the hard seltzers."

What do you think? Have you tried gluten-free hard ciders yet? Curious? Share your comments below.

For more information about hard seltzer brewers, check out Postbulletin.com