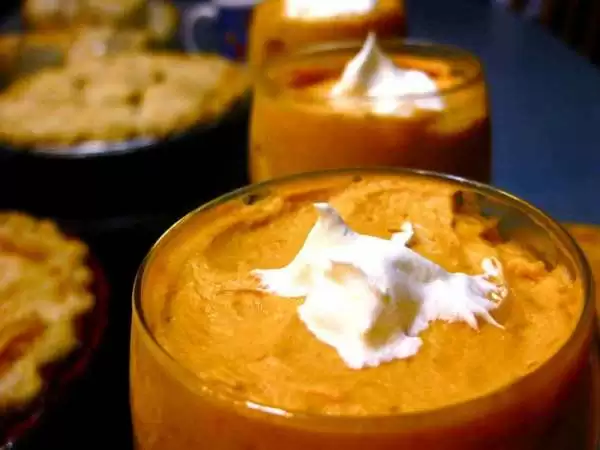 Caption: Image: CC BY 2.0--melloveschallah
Celiac.com 11/23/2019 - Want something that satisfies that urge for pumpkin pie without all the drama of baking? This easy, gluten-free holiday pumpkin mousse is the perfect dish. Grab a can of your favorite packed pumpkin, some sugar, cream, a little vanilla extract, and some pumpkin spice. Heat the ingredients for a bout 5 minutes, let it cool, pour into serving glasses, top with ginger snap pieces and bang!
You're ready to dazzle your gluten-free guests with minimal effort and maximum deliciousness. Don't worry, down below, we're also including recipes for Soft and Chewy Gluten-free Ginger Snaps, and for Swedish Thin Ginger Snaps.
---
Celiac.com Sponsor (A12):


---
---
Celiac.com Sponsor (A12-m):


---
Ingredients:
1 (15-ounce) can pumpkin
3 cups heavy cream
¾ cup superfine sugar
½ teaspoon pumpkin pie spice
1 tablespoon vanilla extract
Gluten-free ginger snaps, garnish as desired
Directions:
Combine pumpkin, 1 cup cream, sugar and spice in a medium saucepan. 
Simmer over medium heat for 5 minutes. Cool fully.
Whip remaining heavy cream and vanilla into soft peaks and fold into cooled pumpkin mixture. 
Pour into a serving dish and crumble the gluten-free ginger snaps over top before serving.
Home Made Pumpkin Pie Spice
Ingredients:
4 teaspoons ground cinnamon
2 teaspoons ground ginger
1 teaspoon ground cloves
½ teaspoon ground nutmeg
Mix all ingredients. 
Store in an airtight container in a cool, dry place up to 6 months.
Swedish Thin Ginger Snaps (Pepparkakor)
Ingredients: 
2 sticks butter
1 cup white sugar
½ cup molasses
2 teaspoons cinnamon
1 teaspoon ground cloves
2 teaspoons ginger
1 teaspoon salt
2 teaspoons baking soda
2 teaspoons xanthan gum
1 egg
2 cup rice flour
¾ cup cornstarch
Directions:
Cream butter and sugar well. 
Add egg, beat again. 
Add in spices, molasses, soda, and salt. 
Stir in flour & cornstarch until just combined.
Drop onto greased tray, bake at 350 for 8-10 min. (if you roll them out, it's 350 for 6-8 minutes). 
They burn easily either way, so watch them carefully.
Soft and Chewy Gluten-free Ginger Snaps
Ingredients:
¾ cup shortening
1½ cups brown sugar
2 eggs
⅓ cup molasses
⅓ cup white sugar
2 teaspoons apple cider vinegar
2¾ cups gluten-free flour mix
1 teaspoon xanthan gum
1 teaspoon baking soda
1 teaspoon ground ginger
1 teaspoon cinnamon
½ teaspoon ground cloves
Directions:
Heat the oven to 350°. Mix the gluten-free flour, xanthan gum, and baking soda together in one bowl.
Cream the butter and sugar in another bowl. This works best with an electric mixer. If you are doing it by hand, make sure the butter is soft.
Add the eggs, then molasses (Plantation Barbados unsulphured molasses gets high marks, so I use that for this particular recipe), then apple cider vinegar to the creamed butter and sugar.
Add the spices, and slowly, stir in the combined dry ingredients until the mixture is just blended. The dough should be somewhat firm, so add more or less flour as needed. I usually bake a test cookie or two to get it just right.
Roll the dough into small balls (about one inch). Place them on a greased cookie sheet, and bake for 10 to 12 minutes, depending on your oven. Watch the first batch carefully, to judge how much time to give them.
Here's the recipe for basic gluten-free flour:
Gluten-free flour mix:
1 part white rice flour
1 part tapioca starch
1 part cornstarch
I find it convenient to mix a large batch ahead of time, and then store it in an airtight container.