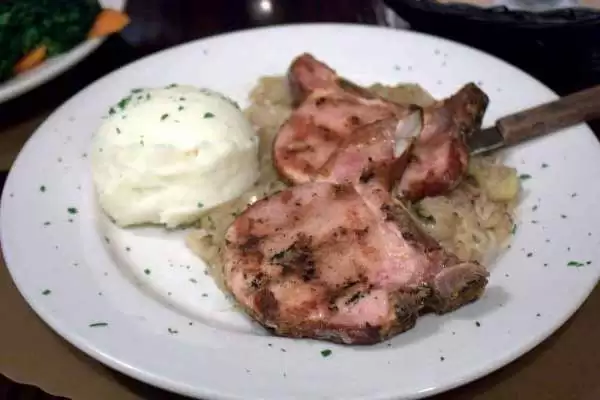 Caption: The finished Kassler. Image: CC BY 2.0--goodiesfirst
Celiac.com 09/16/2020 - The following is an authentic German recipe provided by Claudia Spaulding, who was born and raised in Frankfurt a.M., Germany and publishes homemade recipes (though not all gluten free) at her recipe website.
This is a classic German recipe, which is well known in the mid-western part of the country. You will find this dish in every German restaurant that serves homemade dishes. Some prefer to sear the cutlets first before laying on the sauerkraut. This gives it a more hearty flavor, but it is not necessary. 
---
Celiac.com Sponsor (A12):


---
---
Celiac.com Sponsor (A12-m):


---
Prep Time: 15 minutes
Cooking Time: 30 minutes
Servings: 4

Ingredients:
4 precooked ham cutlets (bone in)
1 lbs jar gluten-free sauerkraut
1 diced onion
2 tbsp butter
1/4 cup water
salt to taste
sugar to taste
1/2 cup vegetable stock
Instructions
1. In a large pan melt 2 tbsp butter and cook until fragrant. Add the sauerkraut and cook for 5 minutes. Add water, salt, sugar, and vegetable stock then stir to combine.
2. Put all of the cutlets on top of the sauerkraut and simmer covered for 20-25 minutes, or until the cutlets are heated through.
3. Serve with mashed potatoes.