Looking to add a bit of comfortable decadence to a romantic meal? Then consider this delightful and delicious lobster infused version of good old mac and cheese. The cheese and pasta delivers a tasty serving of comfort, while the lobster and the truffle oil help to take it to 'eleven.'
This recipe marries a rich, savory mac and cheese with the rich decadence of lobster to deliver a satisfying and romantic meal that will be remembered long after the last bite is gone.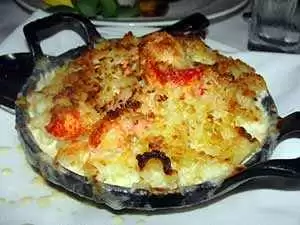 Ingredients:
1 (16 ounce) package gluten-free macaroni (I use Schar's penne)
1 (2 pound) lobster, split
2 tablespoons butter
1 small onion, diced
1 clove garlic, minced
1 shallot, chopped
8 black peppercorns
2 cups milk
5 tablespoons butter
5 tablespoons gluten-free flour
1 pound shredded Gruyere cheese
3 cups shredded Cheddar cheese
1 cup grated Romano cheese
kosher salt and pepper to taste
3 tablespoons gluten-free panko bread crumbs or crushed Rice Chex (my preference)
1/8 to 1/4  teaspoon truffle oil (optional)
Directions:
Fill a large pot with lightly salted water, cook pasta until al dente, or slightly tender to the bite.
Reserve about 1 cups of the hot pasta water, then drain the pasta in a colander set in the sink, and rinse with cold water to cool. Set aside.
Return the pasta water to the large pot, and place the lobster halves in the pot, cut-side up. Return the water to a boil, then reduce heat to medium-low, cover, and steam the lobster just until the meat firms and turns opaque, about 3 minutes.
Remove the lobster and allow to cool for a few minutes, then remove the meat and cut into bite sized pieces. Reserve the shells.
Melt 2 tablespoons of butter in a saucepan over medium heat. Stir in the onion and cook until the onion has softened and turned translucent, about 5 minutes; scrape the onions into a small bowl and set aside.
Place the reserved lobster shells, garlic, shallots, peppercorns, and milk into the saucepan. Bring to a gentle simmer over medium heat, and cook for 20 minutes.
Heat oven to 350 degrees F (175 degrees C).
Melt 5 tablespoons of butter in a saucepan over medium-low heat. Whisk in the gluten-free flour, and stir until the mixture becomes paste-like and light golden brown, about 10 minutes. Strain the milk through a mesh sieve. Gradually whisk the milk into the flour mixture, and bring to a simmer over medium heat.
Cook and stir until the mixture is thick and smooth, 10 to 15 minutes.
Stir the Gruyere, Cheddar, and Romano cheeses into the thickened milk mixture until melted and smooth. Season to taste with salt and pepper, then stir in the reserved lobster, onions, and macaroni.
Pour the gluten-free pasta into a 4 quart casserole dish or a cast iron skillet and smooth the top. Sprinkle evenly with the gluten-free panko crumbs, or crushed Rice Chex.
Bake in the preheated oven until the sauce is bubbly, and the top is golden brown, 8 to 12 minutes. Remove from oven and allow to cool slightly. Top with a splash of truffle oil and serve.