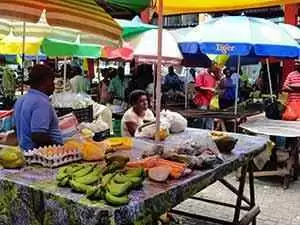 Caption: Photo: CC--travelourplanet.com
Celiac.com 10/01/2012 - As the gluten-free market is exploding, food manufacturers are taking note. More and more food companies are recognizing the need to inform and serve the segment of the market that needs or wants gluten-free products. From gluten-free flours to gluten-free restaurant menus, the prevalence of these products is only expanding—and that means good things for the gluten-free community.

The Rise of Gluten-Free Merchandising
In the United States alone, sales of gluten-free food and beverages hit $2.64 billion in 2010, with a compound annual growth rate (CAGR) of 30% over the 2006-2010 period, according to Packaged Facts. A report by the Frost & Sullivan consulting firm estimates retail sales of packaged foods free of the protein are approaching $2 billion a year in the U.S. What's more, sales are expected to continue growing—even exceeding $5 billion by the year 2015.
---
Celiac.com Sponsor (A12):


---
---
Celiac.com Sponsor (A12-m):


---
The growth of gluten-free parallels the growth of celiac disease, a gluten intolerance that has doubled in case numbers every 15 years since 1974, according to University of Maryland study. With an increasing number of Americans diagnosed with Celiac, not to mention many more non-diagnosed individuals finding health benefits from avoiding gluten, the market has a ready audience.

Brands Already Active in the Gluten-Free Market
Because gluten-free products require specialty flours and premium ingredients that command higher prices, they're typically more expensive than their traditional counterparts. Yet despite that fact, they're selling fast, which is exactly why so many companies and brands are jumping in.

Gluten-free sales are soaring at Cub Foods grocery stores, according to a report from Minnesota Public Radio. The chain has a website that helps shoppers create shopping lists of items that don't contain gluten, and almost every Cub now has a section dedicated to the category.

Food-manufacturing giant General Mills, the company behind Cheerios and Betty Crocker, now offers hundreds of products with the gluten-free label. Kellogg has gluten-free Rice Krispies. Beer manufacturer Anheuser-Busch sells Redbridge, a gluten-free beer. There's a long list of gluten-free menu options at P.F. Chang's, a wide variety of gluten-free options at specialty grocers like Whole Foods Market (a grocery that has more than doubled its gluten-free products in the last five years) and designated sections of gluten-free products at most major supermarkets, including Kroger, Publix and Wal-Mart.

The Problem for the Celiac Community
Given that there's money to be made in the gluten-free marketplace as the idea grows in popularity among celebrities, athletes, etc., it's no surprise to see so many different brands jumping on board. The problem, however, is not that companies are offering gluten-free products—it's that the products labeled "gluten-free," are often cross-contaminated in production, making them still seriously unsafe for celiac patients. For patients diagnosed with celiac disease, going gluten-free is more than a trend—it's a necessity.

One example of this struggle is Domino's gluten-free pizza crust, launched earlier this year, which the company itself admits it "cannot guarantee … will be completely free from gluten." For someone jumping on the gluten-free fad diet, the pizza is perfect; for someone with celiac, it's a reminder of how hard eating out can be. The same goes for Starbucks, which cannot guarantee a gluten-free environment, as well as many other retailers.

What All This Means for Gluten-Free Customers
There is good news on the horizon for the gluten-free community. What's so significant about the upswing in gluten-free merchandise is that the more gluten-free expands, the more variety there will be and the more that prices are likely to go down. It's the basic law of supply and demand. Whereas in 2007, low availability of gluten-free goods raised prices, soon it could be the opposite that is true. As more companies seek to gain a piece of the gluten-free pie, there will be greater options, more competition and lower price tags.

"The more you produce of something, the less it costs in general in an industrial society, if you're talking about processed products," a University of Minnesota professor, Benajmin Senauer, said in an interview with Minnesota Public Radio. "And there's going to be increased competition [in the gluten-free market]."