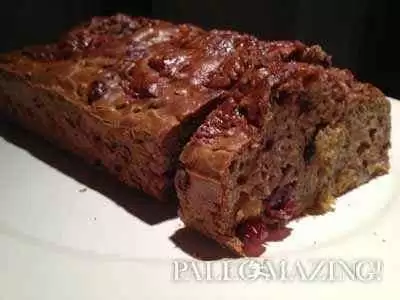 Caption: The finished Gluten-Free Paleo Bread.
Celiac.com 03/08/2016 - I bake frequently using a variety of flours. This, gluten-free paleo bread with dried fruit and pecans is a recipe I devised when trying to create a sweeter bread with virtually no grains. That's right, no grains! I used almond butter in place of the majority of the flours which makes this paleo bread extremely hearty. It pairs very well with an afternoon tea or with some free-range scrambled eggs for a nourishing breakfast.
Bread is one item that many people find hard to give up. Oprah also talks about how much she loves her bread! I don't feel anyone should have to give up flavor. I enjoy working up recipes that are tasty and healthy so we can all enjoy them while living a long healthy life. A truly high quality of life.
---
Celiac.com Sponsor (A12):


---
---
Celiac.com Sponsor (A12-m):


---
I incorporated fresh (or home-roasted) nuts and dried fruit into my recipe but you can omit them if preferred. My celiac and paleo family enjoy every bite, including the nuts and fruit surprises in each and every bite. Children love the heartiness of this. The sooner flavors and textures are introduced to a child at the proper age, the more they can get accustomed to a variety as well as the multitude of nutrients in a recipe like this.

I hope you enjoy!

Ingredients:
¾ cup almond butter, mixed well
4 large eggs (room temp)
¼ cup tapioca flour
½ teaspoon salt
1 teaspoon baking soda
1 teaspoon cinnamon
1 teaspoon cider vinegar
¼ cup dried blueberries (sugar-free)
½ cup raisins (I used ¼ cup Golden and ¼ cup Thompson Seedless Raisins)
½ cup cranberries (I find it hard to locate sugar-free)
Coconut oil for greasing pan
Directions:
Preheat oven to 350F degrees.
Place rack in center of oven. Grease a loaf pan with coconut oil or oil of choice.
In one bowl add the almond butter and eggs.
Whip on low and then medium and then high, getting a really frothy thick mix.
Lower the speed and add 1 teaspoon cider vinegar.
Increase speed a few more seconds.
In a second bowl combine the tapioca flour, salt, baking soda and cinnamon. Sift well.
Add the second bowl with the dry ingredients to the first bowl with wet ingredients, folding in and mixing (do not over mix).
Add in blueberries, raisins and cranberries.
Pour into greased loaf pan and spread evenly.
Optional: For a sweeter breakfast bread, I will add 3 tablespoons sugar-free raspberry preserves. Swirl in gently along the top of the bread creating a marbled effect.
Immediately place in oven and bake for 25 minutes.
Turn the baking pan around and bake for another 25 minutes.
Test bread by placing a clean knife in center of loaf. If it comes out clean, it is done.
If knife does not come out clean, turn down oven to 325 degrees.
Bake for 5-15 minutes more, checking frequently with the knife test.
Take out when moist but not wet – Paleo breads will continue to "bake" outside the oven.
Homemade baked Paleo breads always taste better the next day as opposed to fresh "wheat" bread hot out of the oven–interesting!
Let cool then remove from pan.
NOTE: This bread freezes well.