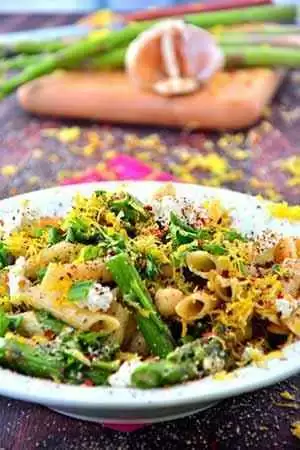 Here's a great pasta salad for your summer BBQ or picnic!

Ingredients:
1/4 cup pine nuts
1 pound gluten-free penne pasta
2 bunches asparagus, trimmed, halved lengthwise, and cut crosswise into thirds
4 ounces goat cheese, broken into pieces
2 scallions, finely chopped
1 Tbsp. fresh orange zest
2 Tbsp. finely chopped fresh parsley
¼ tsp. paprika
½ tsp. sea salt
¼ tsp. freshly ground black pepper
Instructions:
In a small skillet over medium heat, toast pine nuts, stirring often, until golden, approximately 3 minutes.
In a large pot of boiling salted water, cook pasta until al dente, according to the package instructions, add asparagus during the last 2 minutes of cooking. Drain; return pasta and asparagus to pot. Toss with goat cheese, scallions, orange zest, parsley, paprika, sea salt, pepper and toasted pine nuts.
Transfer to a serving bowl and serve immediately or cover and store in the refrigerator until ready to serve.
Serve chilled or at room temperature.
Enjoy!