If you're looking to make a delicious, romantic pass dish that your loved one won't soon forget, look no further.
This easy recipe marries shrimp, pasta, butter, garlic and a few other simple ingredients to create a rich, tasty scampi dish that will have diners calling out for more.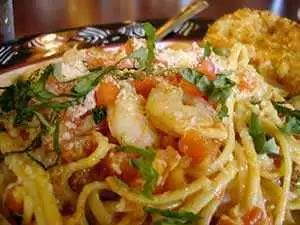 Ingredients:
8 ounces gluten-free pasta (I use Schar spaghetti)
12 large shrimp - peeled, deveined, and tails removed
1 tablespoon butter, divided
1 tablespoon olive oil, divided
½ cup chopped red bell pepper
2 cloves garlic, sliced
¼ cup dry white wine (such as Chardonnay)
¼ cup fresh heavy cream
1 teaspoon lemon juice
2 tablespoons clam juice
1 ½ tablespoons chopped fresh parsley
1 teaspoon sea salt
Directions:
Fill a large pot with lightly salted water, cook pasta until al dente, or slightly tender to the bite.
Reserve ⅓ cup of the pasta cooking water, and drain pasta well in a colander set in the sink.
Melt ½ tablespoon of butter and 1 tablespoon of olive oil together in a large skillet over medium heat, and cook and stir the red pepper and garlic until the peppers have softened, about 5-7 minutes.
Stir in the shrimp, and cook and stir until the shrimp are opaque and orange, about 5 minutes. Remove the shrimp to a bowl and set aside, leaving the peppers and garlic in the skillet.
Stir the wine, lemon juice, and clam juice into the skillet, and bring to a boil over medium heat. Mix in 1 more tablespoon of butter and 1 tablespoon of olive oil, and return the shrimp to the skillet. Stir in reserved pasta cooking water, cream, parsley, and sea salt.
Add the cooked linguine, and shrimp and toss together with sauce. Simmer the mixture over medium-low heat for 3-4 minutes to let the pasta absorb some of the sauce, and serve hot.