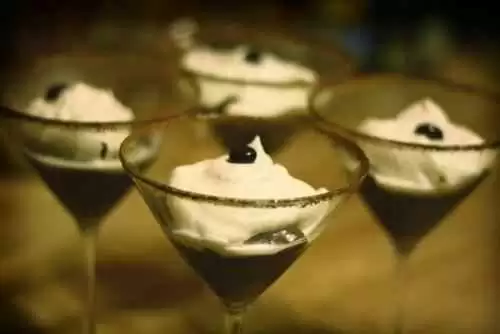 Caption: The finished chocolate pudding. Photo: CC-ginnerobot
A little sinful? Perhaps. But, I believe everyone needs a few desserts under their belt if for no other reason than to break out on a rainy day. Homemade chocolate pudding is a nostalgic must-have and naturally gluten-free. Superfine sugar isn't crucial, but it's smoother and melts easier. The vanilla gives the whipped cream a little boost and can be made a few hours ahead of time. The pudding can be made up to 1 day ahead, but both are best served fresh.

Ingredients:
1 ½ cups bittersweet chocolate chips
2 egg yolks
2 tablespoons butter, room temperature
1 cup whipping cream
2 tablespoons cornstarch
¼ teaspoon salt
2 teaspoons plus ¼ teaspoon vanilla extract
2 ½ cups whole milk
⅓ cup sugar, divided (superfine sugar if available)

Directions:


In a medium saucepan, whisk together all but 1 tablespoon of sugar with cornstarch and salt. Whisk in ½ cup of milk and egg yolks until smooth. Slowly add the remaining milk and bring to a boil, stirring constantly so not to boil over.

Remove from heat and stir in chocolate chips, butter and ¼ teaspoon vanilla. Stir together until melted and smooth. Pour pudding into 6 ramekins or small bowls, or 1 large bowl and cover. Chill for at least 3 hours, but up to a day.

For topping, beat cream and the remaining sugar and vanilla with an electric mixer until peaks form. Serve pudding with a dollop or two of whipped cream.