Caption: Gluten-Free Father's Day (photo courtesy of pipitdapo)
As the old saying goes, "the best way to a man's heart, is through his stomach." Anyone that has a special man in their life, knows this to be true. Father's Day is a perfect opportunity to tell your dad, grandfather, uncle or special man in your life, that you love them by making them a special Father's Day meal that they won't forget. Even if your dad is a gluten eater, the following gluten-free recipe ideas for BBQ ribs, baked beans, french bread, avocado & tomato salad and berry cobbler, will fool even the most dedicated gluten eater into thinking they are eating the real thing. For those dads that enjoy cooking, making plans to prepare the Gluten-Free Father's Day meal together is an excellent opportunity to spend more time with the special man in your life and to help him learn more about gluten-free cooking.
Even if it is physically impossible to share a meal with your father, you can still do something special for him. Make him a special card, or send a special gift. For those father's that are gluten-sensitive, a gift certificate for gluten-free food is a wonderful and thoughtful way express your love and gratitude.
Gluten-Free Fathers Day Meal

Studies show that the number one most popular meal for men is BBQribs. Julia Child provided the following rib recipe and it is naturally gluten-free. In fact, all of the following recipes are all naturally gluten-free, but be sure to use only gluten-free ingredients and spices. 

BBQ Ribs
Baked Beans
French Bread
Avocado Tomato Salad
Berry Cobbler

Julia Child's Broiled or Barbecued Spare Ribs (Gluten-Free)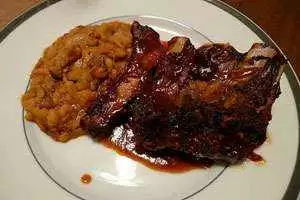 Serving Size : 6

3 whole spare ribs -- making 12 sets of 3-rib portions
Salt and spice marinade - (Either 1 ½ T. salt and 1 tsp of your own spice Marinate or use the following):

Spice Marinade-
1 1/2 T. salt
1/2 tsp. Ground allspice
1/2 tsp. finely ground pepper
Special house BBQ sauce -
1/2 cup fresh peanut oil
1/2 cup wheat-free soy sauce
1/2 cup honey
1 tsp thyme or sage
1 tsp paprika
1/4 tsp. cayenne pepper or chili powder -- or to taste
2 Tbs distilled vinegar

Directions


1. Trimming the ribs. Remove the membrane from the under side of the ribs. Slash between every 2 or 3 ribs at the large side to make for easy cutting into portions after cooking.
2. Preliminary salt & spice marinade. Mix the spices & salt in a small bowl; rub the mixture into both sides of the ribs. Cover and refrigerate. Leave at least 1/2 hour, but overnight is more effective.
3. Special house BBQ sauce. Mix the ingredients for the sauce in a bowl, and paint a coating on both sides of the ribs. Set the ribs, curved side down, in a roasting pan or pans. Reserve the rest of the sauce.
*Ahead-of-time note: The recipe may be prepared a day in advance to this point. Cover ribs and sauce, and refrigerate them.
4. Pre-barbecue roasting - 40 minutes a 375 F. Baste both sides lightly with another coat of sauce, and roast 20 min. on each side in the preheated oven - this starts the cooking and eliminates some of the excess fat.
*Ahead-of-time note: May be done somewhat in advance; let cool, then over and refrigerate.
5. Final cooking. Either on the barbecue. Have your coals just right - a hot gray, not a burning red. Basting the ribs with the sauce, turn them over the coals for 15-20 minutes, until a nice crusty brown.
Or
5.Broil under the broiler. Instead of finishing on the BBQ, turn the ribs under a moderate broiler for 15 - 20 min. basting frequently with the sauce.

Beans are inexpensive and full of healthy proteins, and they go very well with ribs. The following recipe can be modified to be made vegetarian, just leave out the bacon.

Baked Beans Gluten-Free
Ingredients


1 pound bacon
2 (28 ounce) cans baked beans
1 (12 ounce) bottle chili sauce
1 large sweet onion, chopped
2 cups packed brown sugar

To Cook-
1.Preheat oven to 350 degrees F (175 degrees C).
2.Place bacon in a large, deep skillet. Cook over medium high heat until evenly brown. Drain, crumble and set aside.
3.In a large bowl combine beans, chili sauce, onion, brown sugar and bacon. Pour into a 9x13 inch casserole dish.
4.Bake in preheated oven for 45 minutes to 1 hour.

French bread is something that most gluten-sensitive suffers live without. However, the following recipe will leave your dad wondering if your diet has changed to include gluten. This gluten-free french bread is soft on the inside and crunchy on the outside, just the way french bread should be.

French Bread (Gluten-Free)
*Makes 2 loaves. (The left overs freeze very well).


Ingredients
2 cups white rice flour
1 cup tapioca flour
3 teaspoons xanthan gum
1 1/3 teaspoon  salt
2 teaspoons egg substitute (optional)
2 tablespoons sugar 
1 ½ cups lukewarm water
2 tablespoons fast rise yeast
2 tablespoons butter or butter substitute, melted
3 egg whites, beaten slightly
1 teaspoon distilled vinegar
melted butter or substitute for brushing (optional)

Directions


1) In the bowl of a heavy-duty mixer, place flours, xanthan gum, salt, and egg replacer (if used).Blend with mixer on low.
2) In a small bowl dissolve the sugar in the water, and add yeast.
3) Wait until the mixture foams slightly, then blend into the dry ingredients.
4) Add the butter, egg whites, and vinegar. Beat on high for 3 minutes.
5) To form loaves, spoon dough onto greased and cornmeal-dusted cookie sheets in two long French-loaf shapes or spoon into special French-bread pans.
6) Slash diagonally every few inches. If desired, brush with melted butter.
7) Cover the dough and let rise in a warm place until doubled in bulk, 20 to 25 minutes.
8) Preheat oven to 400 degrees. Bake for 40 to 45 minutes.
9) Remove from pan to cool.

No meal is complete without a healthy salad  to accompany it.  This avocado and tomato salad is naturally gluten-free and is the perfect compliment to any meal, especially this one. It's very easy to make and it only takes 10 minutes to prepare. For best flavor chill for one-hour prior to serving.

Avocado & Tomato Salad (Gluten-Free)

Ingredients
4 Large tomatoes, chopped
4 Avocados, peeled, pitted and diced into large pieces to avoid mushing your avocado
1 Red onion, thinly sliced
1/3 Teaspoon ground black pepper, or to taste
1 bottle (8ounces) balsamic vinaigrette salad dressing

Preparation
In a large serving bowl, toss together the tomatoes, avocados and red onion. Dust lightly with black pepper, and pour salad dressing over the mixture.
*Note-To blend spices, cover and chill for at least one hour before serving.
Gluten-Free Dessert
There are many wonderful gluten-free dessert ideas available. The following berry cobbler recipe is gluten-free and can be served with gluten-free vanilla ice cream for a delicious dessert that can be finished off for breakfast.