Celiac.com 04/01/2014 - Want to turn a few new corners with lamb? This recipe for perfectly cooked lamb loin chops and a yummy mint chimichurri sauce will do the trick. This recipe works best with lamb loin chops or thick rib chops.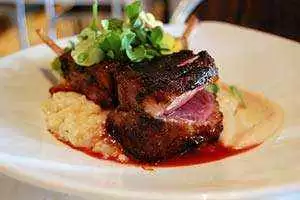 Ingredients:
2 pounds of lamb loin chops, about 8 chops, 1½ inch thick
2 tablespoons of red wine vinegar
1 teaspoon Kosher salt
½ teaspoon freshly ground black pepper
2 tablespoons olive oil
½ cup baking soda
Chimichurri Sauce:
4 cloves garlic, chopped
1½ cups fresh mint leaves, stemmed and packed
1 cups fresh parsley leaves, packed
½ cup stemmed fresh cilantro
2½ tablespoons fresh lemon juice
2½ tablespoons red wine vinegar
1 teaspoon Kosher salt
¼ teaspoon red pepper flakes
¼ teaspoon freshly ground black pepper
½ cup olive oil
Directions:
Coat chops with baking soda and place in refrigerator for 20 minutes.
Remove chops from the refrigerator, rinse well and pat dry.
Coat chops with red wine vinegar and let sit for 20-30 minutes.
Pat chops dry with paper towel and sprinkle on all sides with Kosher salt.
Set aside and prepare the chimichurri sauce.
Finely chop the garlic, mint and parsley, and put into a bowl.
Stir in the wine vinegar, salt, and red pepper flakes.
Stir in the olive oil.
Heat olive oil in a large cast iron pan on medium high heat.
Sprinkle black pepper on both sides of the chops.
When the pan is hot, place the chops meat-side down in the pan. Leave space between the chops, do not crowd the pan.
Do not move the chops, just let them brown, about 2 to 4 minutes on each side, depending on the heat of your pan and the size of the chops.
Once browned on one side, turn them over and brown the other side.
Then quickly sear the fatty back edge of the chops.
Once the chops are completely browned, lower the heat and continue to cook until the lamb chops are done to your liking.
Lamb is best served rare, that means vivid pink on the inside, and never more cooked than medium rare. That means removing the meat from the pan at 120° to 125°F for rare, and 130° to 135°F for medium rare.
Some chops may cook faster than others, so check them as they cook, and pull them off the pan as they reach desired doneness.
Place the chops on a plate and cover with foil. Let rest for 10 minutes before serving.
Serve with chimichurri sauce.