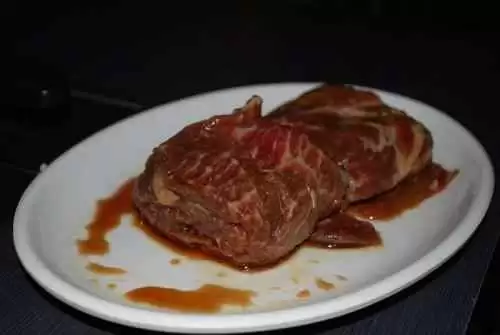 Image Caption: Photo: CC--avlxyz
Celiac.com 09/17/2013 - Koreans know a thing or two about barbecue. In fact, I would put Korean barbecue right in the top four or five of my favorite styles of barbecue.

These Korean-style barbecue skewers are easy to make and easy to cook, and they taste delicious.
Ingredients:
1 pound Korean-style short ribs (cut across the bone)
½ cup scallion, chopped
⅓ cup sugar
⅓ white wine
3 tablespoons sesame oil
½ cup soy sauce
2 crushed garlic cloves
1 grated Asian pear
1 dozen skewers, soaked in water
Directions:
Marinate thinly sliced short ribs and scallion pieces in 1/3 cup each sugar and white wine, 3 tablespoons sesame oil, 1/2 cup soy sauce, 2 crushed garlic cloves and 1 grated Asian pear.
Skewer so the meat lies flat, avoiding the bone. Grill over medium-high heat.
Serve with rice and kimchee.