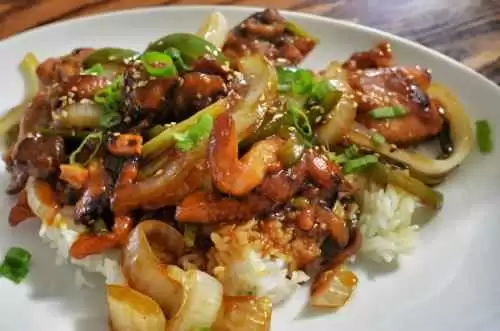 Caption: Honey sesame chicken. Photo: CC--JeffreyW
Celiac.com 01/27/2018 - If you've ever had a good version of this crowd-pleasing dish at a restaurant, you likely wondered if it could be made at home. It can, indeed, and you can do it gluten-free with no extra trouble at all. This version is tasty and easy to make. Enjoy it over rice.
Ingredients:
2 pounds boneless, skinless chicken breast halves, cut into bite-size chunks
1 tablespoon vegetable oil
3 cloves garlic, minced
½ medium onion, diced
½ cup gluten-free soy sauce or tamari
¼ cup ketchup
2 teaspoons sesame oil
½ cup honey
2 tablespoons cornstarch
3 tablespoons water
2 scallions, white and light-green parts, chopped, for garnish
⅓ cup Toasted sesame seeds
½-1 teaspoon crushed red pepper flakes, as desired
Kosher salt
Freshly ground black pepper
Potato starch for dredging
Directions:
Season the chicken lightly with salt and pepper, and dredge in potato starch.

Add vegetable oil to a medium skillet, and sauté onion until translucent.

Add the garlic, and chicken and stir, cooking, until the chicken browns slightly and the onion softens.

Add the soy sauce, ketchup and crushed red pepper flakes, and stir to mix.

Add the sesame oil and honey, stirring to incorporate.

Dissolve the cornstarch in water in a small bowl, then add to the pot, a little at a time, stirring as you go, until it thickens as desired.

Stir in most of the sesame seeds.

Divide among individual plates; sprinkle with the scallions and remaining sesame seeds.

Serve over rice.