Celiac.com 06/11/2013 - With the last of the cool nights upon us, and precious few excuses for romance since Valentine's Day, it's a great time to throw down a tasty, eye-pleasing meal that will speak volumes about your culinary character.

This recipe for grilled rack of lamb fits the bill nicely. It makes a delicious rack that looks like a million dollars, and is bound to satisfy. Combine this with a glass of red wine or gluten-free hard apple cider, a couple of side dishes, and our recipe for strawberry mousse, and you've got the makings of a night to remember.

Note: To do this right, it helps to have an instant-read cooking thermometer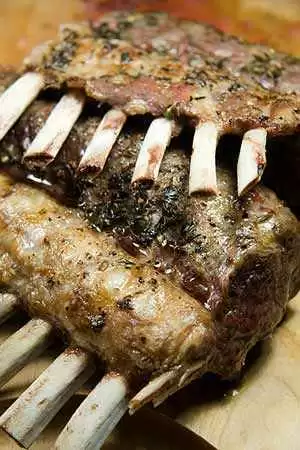 For lamb
1 (8-rib, 1½ pound) Frenched rack of lamb, trimmed of all but a thin layer of fat
1 teaspoon salt
½ teaspoon black pepper
1 teaspoon olive oil
For herb seasoning
3 large garlic cloves, minced
¼ cup finely chopped fresh Italian parsley
1 tablespoon finely chopped fresh thyme
1½ teaspoons finely chopped fresh rosemary
½ teaspoon salt
½ teaspoon black pepper
1½ tablespoons extra-virgin olive oil
Directions:
Pat lamb dry and rub meat thoroughly with salt and pepper.
Heat 1 teaspoon of oil heavy 12-inch pan for at least 2 minutes. Brown lamb on all sides, but not ends, about 10 minutes.
Transfer racks to a small (13- by 9-inch) roasting pan.
Coat and roast lamb:
Put oven rack in middle position and preheat oven to 350°F.
In a bowl, mix together garlic, herbs, salt, pepper, and oil. Coat the meat (not the bone) with herb mixture, using a bit of pressure to help it stick.
Roast 15 minutes at 350°F, then cover lamb with foil and roast until thermometer inserted diagonally into center of meat registers 120°F. Roast for 5 to 10 minutes more. Let stand, covered, 10 minutes.
While the meat stands, the temperature will rise to 125 to 130°F and the center for medium-rare.
Cut each rack into 4 double chops. Serve with red wine of your choice for a delightful pairing, whatever your side dishes.