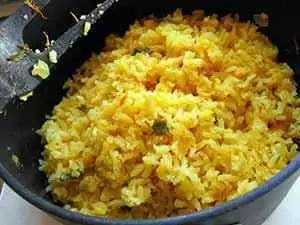 Cinco De Mayo is upon us, and if you love Mexican food, like I do, you probably also love Mexican-style rice. I've often wondered about the secrets to making really great tasting Mexican-style rice. Now I can wonder no longer. This recipe produces an easy, great tasting Mexican-style rice that will have your guests helping themselves to another plate, and asking you for your Mexican cooking secrets.
Ingredients:
2 teaspoons vegetable oil
2 cup uncooked long-grain rice
1 medium onion, chopped
1 ½ teaspoon ground cumin
1 teaspoon chili powder
3 ounces canned diced tomatoes
2 teaspoons salt
3 cups water

Directions:
In a large saucepan, heat oil over medium heat.

Stir in onion and saute until clear, but not brown.

Pour the rice into the pan and stir to coat grains with oil.

Mix in cumin, chili powder, tomatoes, salt and water.

Cover, bring to a boil then reduce heat to low.

Cook at a simmer for 20 to 30 minutes or until rice is tender.

Serve with your favorite Mexican dishes.
---
Image Caption: The finished Mexican rice. Photo: CC--Paperfacets