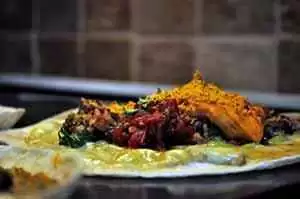 Image Caption: The finished black bean burrito.
Black beans are a healthy addition to any diet, and especially to a gluten-free diet. They are inexpensive and taste great. 
Gluten-Free and Vegetarian
Serves 2
Ingredients
4 gluten-free tortillas

1/2 cup Greek plain 2% yogurt

1/2 cup pureed pumpkin
1/2 tsp. chili powder
1 cup white beans
1/4 cup fresh curly parsley, chopped
1 1/2 cups black beans, cooked
1 cup wild rice, cooked
1 ripe avocado, peeled, pitted and mashed
1 plum tomato, finely chopped
1/3 tsp. sea salt
1/4 tsp. freshly ground white pepper
Directions
Preheat oven to 350 degrees F.
Prepare a baking sheet with non-stick baking spray.
Lay gluten-free tortillas flat on baking sheet.
In a medium bowl, combine yogurt, pumpkin and chili powder; mix well to combine.  Spread mixture atop tortillas. Add mashed avocado and smooth together in a circular motion.  Add white beans, parsley, beans, rice and tomatoes.
Sprinkle with sea salt and pepper.
Transfer to the oven; bake for 1-15 minutes or until golden brown and bubbling.
Remove from oven; transfer to serving dishes.
Serve warm.