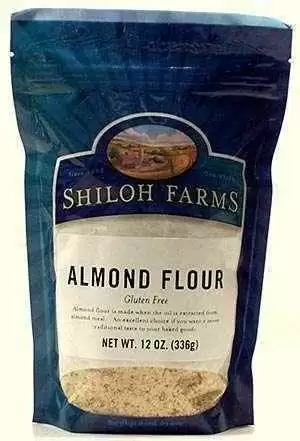 Celiac.com 09/03/2013 - Health food enthusiasts and gluten-free bakers are leaning towards a new flour alternative. Once scarce and requiring tedious home preparation, almond flour is peeled and ground to perfection, light, and readily available. Packaged in a devoted gluten-free facility, Bob's Red Mill Almond Flour requires one ingredient: almonds. Minimally processed, with a natural hint of sweetness, consider it baker's gold. Gluten-free baked goods tend to lack an outstanding reputation regarding consistency.

Using almond flour saves desserts from becoming sad piles of gritty disappointment. Individuals with a gluten and grain intolerance are enjoying better tasting baked goods with improved nutritional benefits. For these individuals, even gluten-free foods must be eliminated if the amount of carbohydrates elicit negative affects. One-fourth cup of organic brown rice flour contains 26-31 grams or carbohydrates and 3 grams of protein. This is nearly five times the amount of carbohydrates and half the amount of protein found in almond flour.
Before raiding your cabinets and restocking the shelves, remember that almond flour should be used in moderation. To get an idea, one-fourth cup of almond flour is equivalent to eating twenty-three almonds in one sitting. This would be hard on anyone's system to digest.
It's no secret that almonds contain many health benefits such as vitamin E, protein, and fiber. They are low on the glycemic index and versatile. However, they also contain polyunsaturated fats (omega 6) which promotes inflammatory causing agents. Polyunsaturated fat are not stable in withstanding heat and may become oxidized and toxic to body cells.
Inflammatory. Toxic. Fats. Now, do not let these words send you running up in arms. As mentioned before: moderation is KEY and tends to decipher whether or not issues arise. Consider almond flour as the cherry on-top to a recipe that's already catered to your needs.