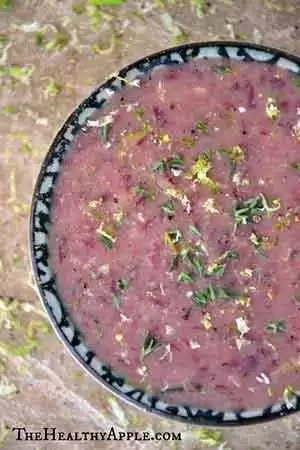 Caption: Photo: TheHealtyApple.com
This is the perfect dip for a holiday party, or to share with your favorite dinner guests.

Ingredients:
12 oz. fresh cranberries
1/2 cup organic sugar
2 Tbsp. unsweetened coconut flakes
2 (8 oz.) containers of dairy-free/vegan cream cheese such as GO Veggie! Plain Cream Cheese, softened
1 Tbsp. cranberry juice
Sliced Fresh Fruit on toothpicks, for serving
Directions:
Pulse the cranberries in a food processor until finely chopped; add sugar, coconut flakes and cranberry juice then add the cream cheese and blend until smooth.
Serve chilled with fresh fruit on toothpicks for your holiday guests.  Enjoy!