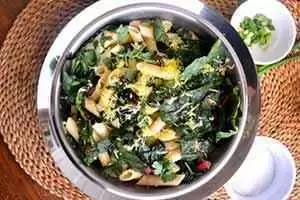 There is a variation on this tasty recipe using Rainbow Swiss chard and pine nuts on my Web site.
Ingredients:
2 cups TruRoots gluten-free penne pasta
1 Tbsp. Barlean's coconut oil
1 large bundle Swiss chard
1 large bundle kale
1/3 cup walnuts, finely chopped
2 tsp. fresh lemon juice
1 tsp. fresh lemon zest
5 chives, finely chopped
1/4 tsp. sea salt
1/4 tsp. freshly ground white pepper
Instructions:
Cook pasta according to package directions.
Meanwhile, wash Swiss chard and kale; cut into 1 inch pieces.
Heat coconut oil in a large skillet over medium heat. Add Swiss chard; cook, tossing until tender, about 3 minutes.
Remove from heat; drain off excess liquid. Add walnuts, lemon juice, lemon zest, chives, sea salt and pepper.
Drain pasta; gently toss with kale mixture. Transfer to a serving bowl.
Serve warm.
---