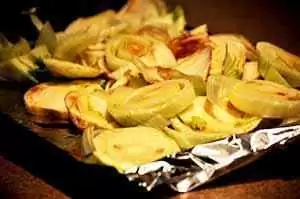 Caption: The finished fennel crisps.
This gluten-free recipe can be served with your favorite dip, or just eaten by itself!

Gluten-Free and Vegan
Serves 4

Ingredients:
4 bulbs fresh fennel
1/4 tsp. sea salt
1 clove garlic, minced
1/3 cup freshly squeezed orange juice
1/2 tsp. apple cider vinegar
1/4 tsp. orange zest

1/3 cup sunflower seeds, finely ground
Directions:
Pre-heat oven to 350 degrees F.
Slice fennel bulb lengthwise to create disk-like slices.
Prepare a baking sheet with parchment paper.  Sprinkle with sea salt and minced garlic, then drizzle with fresh  juice and vinegar.  Top with orange zest and ground sunflower seeds.

Bake for 30 minutes or until crispy.