Celiac.com 01/06/2015 - This recipe makes a tasty, festive multi-layer bean dip that will have your guests smiling and asking for more. The recipe is pretty flexible, so feel free to adjust ingredients to suit your tastes and desires.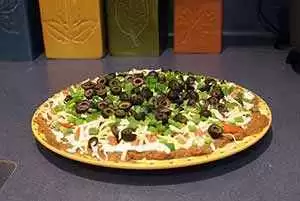 Ingredients:
2½ cans refried beans
3 medium ripe avocados, peeled
½ cup of tomato salsa of choice
2 tablespoons lemon juice
½ teaspoon salt
¼ teaspoon pepper
1 cup (8 ounces) gluten-free sour cream
2 tablespoons mayonnaise
2 tablespoons gluten-free taco seasoning (see recipe below)
1½ cups (6 ounces) shredded cheddar cheese
1 cup sliced black olives, drained
4 green onions, thinly sliced
1 large tomato, chopped w/ seeds removed
Tortilla chips
Directions:
Mix salsa into bean dip and spread over a large serving plate.
Combine the sour cream, mayonnaise and taco seasoning; spread over the bean layer.
In a small bowl, mash avocados with lemon juice, salt and pepper; spread over sour cream layer.
Sprinkle with cheese, and top with olives, onions and tomato.
Serve with tortilla chips.
Gluten-Free Taco Seasoning
Ingredients:
2 tablespoons ground chili powder
3 teaspoons ground cumin
2 teaspoons salt
2 teaspoons ground black pepper
1 teaspoon ground paprika
½ teaspoon dried oregano
½ teaspoon garlic powder
½ teaspoon onion powder
½ teaspoon dried red pepper flakes
Directions:
Mix ingredients in a bowl and place in a jar to use as needed.