Celiac.com 01/02/2014 - A smooth, rich, flavorful butternut squash soup is worth its weight in gold on a cold winter night; worth at least two quarts of your favorite ice cream, or possibly the cuddling of a warm spouse.

This recipe adds one of my favorite sausages, Niman Ranch apple Gouda, for a welcome, extra hearty spin on this traditional classic soup.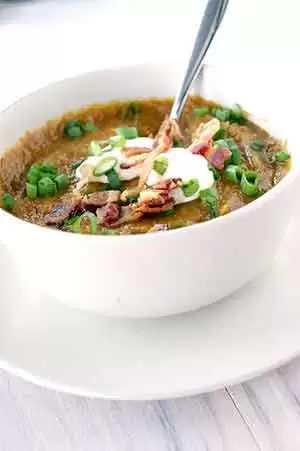 Ingredients:
10 ounces Niman Ranch cooked apple and Gouda sausage, cut into 1/2-inch pieces
4 cups cubed peeled butternut squash
3 medium carrots, chopped
1 stalk celery, chopped
½ medium onion, chopped
2½ cups chicken broth
⅓ cup plus 1 tablespoon extra-virgin olive oil
⅓ cup fresh thyme leaves or Italian parsley
dash of mustard
Kosher salt and freshly ground pepper
bacon as garnish
minced scallion as garnish
sour cream or yogurt as garnish 
Directions:
Heat 1 tablespoon olive oil in a large pot over medium-high heat. Add the sausage and cook about 4 minutes, stirring occasionally, until browned. Transfer sausage to a bowl.
Add the thyme, squash, carrots, celery, onion, chicken broth, 2½ cups water and 1 teaspoon salt to the pot. Cover and bring to a simmer, then reduce the heat to low. Continue simmering until the vegetables are tender, about 15 more minutes.
Purée the soup in a blender in batches, then return to the pot along with the sausage. Season with salt and pepper and serve warm with toasted gluten-free bread. Garnish with scallion, sour cream, and bacon as desired.