Image Caption: The finished cashew sweet potato soup. Photo-CC- Back to the Cutting Board.jpg
A fun soup to enjoy when the weather starts gettin' a bit cool. Topped with a bit of cilantro, this soup will have your taste buds yearnin' for more in no time! Bon Appetit.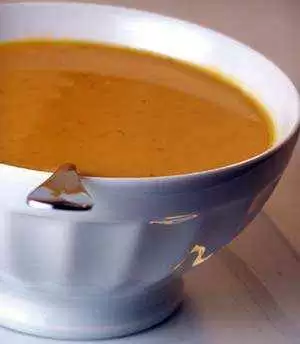 Ingredients
3 large sweet potatoes
1 Tbsp. extra virgin olive oil
1 large Vidallia onion, chopped
1 clove garlic, minced
1 Tbsp. balsamic vinegar

3 cups low sodium vegetable broth
2 cups Greek plain yogurt
1 tsp. all spice
1 tsp. chili powder
1/4 tsp. sea salt
Topping: 1/3 cup fresh cilantro
Directions
Prick sweet potatoes with a fork to create air pockets. Place into the microwave for 10 minutes. Set aside.
In a large saucepan, heat oil.  Add onion and cook until they begin to brown, approximately 3 minutes. Add garlic; stir for 2 minutes.  Add balsamic vinegar, all-spice, chili powder, and sea salt.  Cook for 10-15 minutes.
Peel sweet potatoes and chop into small chunks.  Place into a food processor along with the vegetable broth, Greek yogurt and cashew butter; puree until smooth.  Add the puree to the pot and mix well.
Transfer to serving bowls; garnish with cilantro.