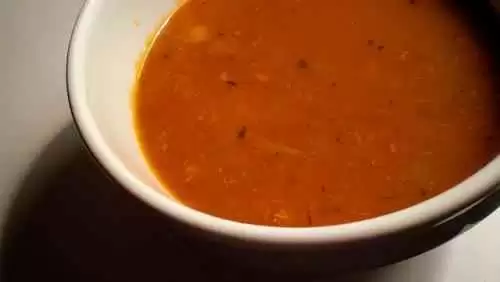 Caption: The finished cold roasted tomato soup. Photo: CC-timlewisnm
I love tomatoes so much, I've been using them in just about every dish I make this summer. Making this delicious cold soup is one way to enjoy the wonderful flavor of one of summer's most versatile fruits.
This soup uses roasted tomatoes, olive oil, garlic, chicken stock, balsamic vinegar and a few other fresh ingredients to deliver a delightful soup that is as tasty as it is refreshing.

Ingredients:
2 pounds Roma (plum) tomatoes, quartered
3 tablespoons olive oil
4 cloves garlic
1 quart chicken stock
1/4 cup chopped fresh basil
1/2 tablespoon balsamic vinegar
salt to taste
ground black pepper to taste

Directions:
Place the tomato halves, cut side up, on a baking tray with the garlic cloves. Drizzle with the oil, and sprinkle with salt and pepper. Roast at 375 degrees F (195 degrees C) for 1 hour.

Trim the ends off the garlic cloves, and squeeze roasted garlic into a food processor bowl, along with the entire contents of the baking tray.

Add stock, basil, and vinegar; blend until smooth. Season to taste.

Chill and serve cold.