Celiac.com 01/22/2015 - A good salad dressing is worth its weight in gold. This easy-to-make gluten-free honey mustard vinaigrette is sure to dazzle your guests and please most salad lovers.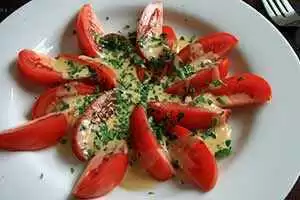 Ingredients:
1 cup extra-virgin olive oil, more to taste
2 tablespoons gluten-free cider vinegar
2 heaping teaspoons gluten-free brown or Dijon mustard
1 teaspoon honey
1 shallot, minced
¼ teaspoon salt
½ teaspoon coarsely ground black pepper
Directions:
In a glass jar or other shakeable container, combine shallot, vinegar and mustard. Close tightly and shake until well mixed. Add salt and pepper, and shake again.

Add olive oil ⅓ cup at a time, and shake well after each addition, until smooth and emulsified.

Feel free to adjust ingredients to taste.

Use immediately or store in the refrigerator for up to 3 weeks.

Cold olive oil will form congeal, so remove from refrigerator 30 minutes, and allow to warm to room temperature.

Once liquified, give it a good shake before serving to re-emulsify. Enjoy!