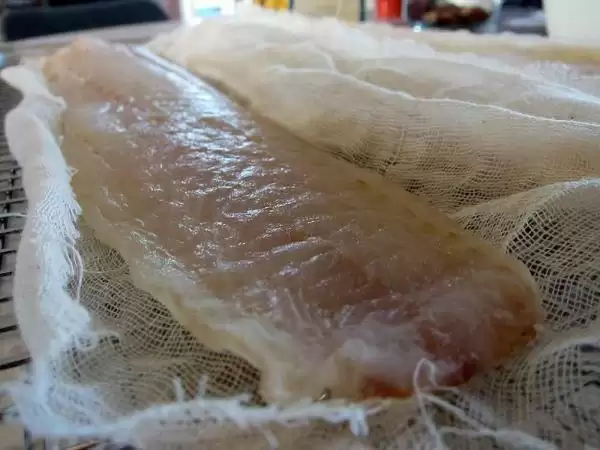 Caption: Image: CC--Eugene Kim
Celiac.com 09/04/2018 - Want a tasty, simple, reasonably quick gluten-free dinner that is sure to satisfy? This recipe for salted cod and smashed potatoes is just the ticket. Add some arugula with a delightful vinaigrette, and you're home free.
This recipe pairs smashed potatoes with slated cod, milk, garlic, and herbs for a big, gluten-free suppertime hit.
---
Celiac.com Sponsor (A12):


---
---
Celiac.com Sponsor (A12-m):


---
Ingredients:
4 cod fillets, 4-6 ounces each
1½ cups whole milk
2 shallots, sliced
1½ teaspoons salt
1 teaspoon dried thyme
2 bay leaves
3 cloves garlic, crushed
1 pound red baby potatoes
2 tablespoons salted butter
¼ cup chives
1 ounce arugula
pinch of salt
pinch of cracked black pepper
2 teaspoons extra virgin olive oil
Tomato and thyme vinaigrette:
5 ounces plum tomatoes
½ teaspoon thyme
1½ cups tomato juice
1 tablespoon sherry vinegar
2 pinches of salt
1 pinch of cracked black pepper
Directions:
For the vinaigrette, add all the ingredients in a blender and puree until smooth. 
Strain, and season to taste, and put aside.
Rub the cod fillets with salt and set aside for 25 minutes. 
Place the potatoes in a pot, bring to a simmer and cook until tender. 
When potatoes are done, drain away the water, and place potatoes in a bowl. 
While still warm, crush the potatoes in the bowl, add the melted butter, salt, and the chopped chives.
Run cod under cold water to rinse all the salt off. 
Place cod in a large saucepan with the cold milk, thyme, crushed garlic, sliced shallots and bay leaves.
Bring to a simmer, cook for four minutes, remove and place on plate for serving.
Place the potato just off the middle of the plate, place the cod on top and spoon over the dressing. 
Dress the rocket with the olive oil, salt and pepper, and add place beside the cod.