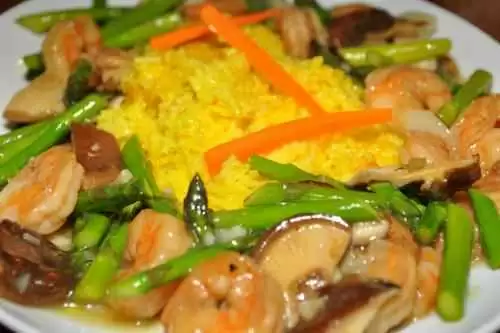 Caption: Shrimp and vegetables make a great stir-fry meal. Photo: CC--Mike Mozart
Celiac.com 05/23/2017 - Want a quick, tasty stir-fry that is almost certain to please? This recipe combines tender, juicy shrimp with sesame oil, spices, vegetables, and teriyaki sauce, to make a delightful gluten-free meal.
Ingredients:
2 cups water
1 cup uncooked white rice
1 pound medium shrimp, peeled and deveined
¼ teaspoon ground ginger
¼ teaspoon cayenne pepper
2 cloves garlic, minced
1 tablespoon sesame seeds
¼ teaspoon ground black pepper
2 tablespoons sesame oil
1 red bell pepper, sliced into thin strips
3 green onions, sliced
3 tablespoons gluten-free teriyaki sauce
½ pound sugar snap peas
2-3 brown or Shitake mushrooms, fresh, cut to bite sized pieces
2-3 stalks of asparagus, cut to bite sized pieces
â…› cup cornstarch
¾ cup chicken broth
¼ teaspoon salt
Directions:
Prepare rice according to directions.

In a large plastic food storage bag, combine shrimp, ginger, cayenne pepper, garlic, sesame seeds and black pepper.

Allow to marinate for about an hour, and up to 8 hours, in the refrigerator.

Heat sesame oil in a large wok or skillet.

Add red bell pepper, asparagus, mushrooms and green onions, and sauté 3 to 4 minutes, until soft.

Add teriyaki sauce.

Add peas and shrimp with seasoning, and sauté a few minutes, or until shrimp are opaque.

Stir cornstarch into chicken broth and add to wok; cook, stirring until mixture boils.

Season to taste with salt.

Serve over rice.