Soba is a Japanese classic. These noodles were originally made with pure buckwheat, which is naturally gluten-free. These days, you can still find pure buckwheat soba noodles at many Asian grocers, or online.
This version marries gluten-free pure buckwheat noodles, steak, snow peas, and a few other simple ingredients to deliver dish that pays homage to soba's traditional roots.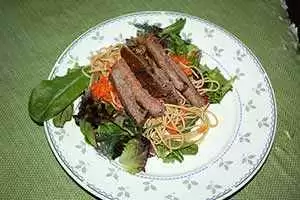 Ingredients:
1 package (8.8 ounces) soba (Japanese buckwheat noodles)
1 pound skirt steak, cut to fit in skillet
1 pound snow peas, stem ends removed
2 large shallots, thinly sliced and separated into rings
6 garlic cloves, coarsely chopped
2 scallions, finely chopped
1/4 cup chopped cilantro
1 teaspoon finely grated lime zest, plus 2 tablespoons fresh lime juice
Kosher salt and ground pepper
1 teaspoon honey
2 tablespoons gluten-free soy sauce
NOTE: Cook steak rare to medium-rare for this dish. Do not cook steak beyond medium-rare.
Directions:
Add 1 teaspoon of salt to a pot of boiling water.
Add noodles and cook until al dente. Rinse in cold water, drain, and set aside.
Heat a large skillet over medium-high. Season steak with salt and pepper. Cook (in batches if necessary), turning once, until medium-rare, 2 to 6 minutes per side.
Transfer steak to a cutting board, and loosely tent with aluminum foil. Reserve pan juices in skillet.
Add garlic, shallot, and toss with juices, cook bout 1 minute.
Add soy sauce, lime zest, lime juice, honey, and 2 tablespoons water, as needed. Cook another minute, stirring well.
Add snow peas to skillet, and cook on medium-high heat, tossing occasionally, until tender, but crisp, 2 to 3 minutes.
Add noodles. Cook until warmed through, about 20 seconds. Transfer to serving bowls.
Slice steak and arrange over the top of the noodles, and add any pan juices. Top with cilantro, and serve.