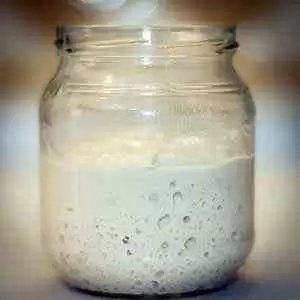 Caption: Fermenting sourdough starter. Photo: CC--Nicola Since 1972
Celiac.com 12/27/2012 - Making sourdough 'starter' is the first step in the traditional fermentation process for sourdough bread. You begin the process by "growing" strains of lactobacillus bacteria and yeast together in what bakers call the 'starter.' When the 'starter' is added to flour, the organisms produce enzymes that break down the gluten protein in the flour in a process called 'hydrolysis.' Hydrolysis is the breakdown of larger particles into smaller ones, specifically amino acids.
Some studies show that these amino acids are no longer toxic to individuals who are sensitive to gluten. Basically, these cultures partially digest the wheat or other grains; doing part of the stomach's job in advance part of the digestive process.
---
Celiac.com Sponsor (A12):


---
---
Celiac.com Sponsor (A12-m):


---
When you add the gut healing benefits of lactobacillus, the result is bread that acts like medicine; delicious medicine, at that.

Using sourdough starter to bake breads using gluten-free grains is an excellent way for people with celiac disease and gluten-intolerance to get the benefits of sourdough cultures and to enjoy delicious fresh bread.

Here's a recipe for gluten-free sourdough starter that you can use to bake countless loaves of delicious gluten-free bread:

Gluten-free Sourdough Starter

Ingredients:
1 cup water, 110 to 115 deg F
2 1/4 teaspoons active dry yeast
1 1/2 cups rice flour 

Directions:
Combine all ingredients in a 1-quart container. It will be thick.

Cover loosely with plastic wrap or foil and let stand for one to three days in a warm place, stirring 2 or 3 times daily.

The starter will rise and fall during the fermentation process.When it is ready to use, it will be bubbly and may have a layer of hooch, or liquid, on top of the starter, which can be stirred back in.

Use the starter right away, or put it in refrigerator.

You can easily replenish your starter by keeping at least one cup of finished aside. Add 1 cup water and 1 1/2 cup white rice flour. Cover loosely and let stand in a warm place for 12 hours, stirring once or twice. Use what you need, and refrigerate the rest. Replenish as needed.